We want to give you a peek inside our Coach Certificate & Mentorship Program. Coaches taking part in this academic-year-long journey have graciously given us permission to post some of their learning and reflections from the private coursework they are undertaking during this program. Where possible, we have shared the course and the action task to give context for the guest post.
The Topic: Why Do Schools Need Coaches?
The Task: In collaboration with the teaching colleague you identified, select a focus for working together.
I am really thankful to be in a school where the Four Essential Conditions For An Instructional Coaching To Work shared by Elena Aguilar are, for the most part, met or in the works to be established (school culture, structures for collaboration, principal's view of coaching and PD support for coaches). Our division is leading the way with a first-ever divisional coaching team, consisting of 7 coaches in varying roles. We are all keen to experience collective professional learning as a team (cough*I'm going to pitch The Coach Microcredential*cough) On Thursday, we were able to present at our faculty meeting this week to help share and socialize the approach and language for our coaching team, which is envisioned to overall support student learning and support and promote a culture of learning across our community. Our principal has a strong vision for where our team can lead and is extremely supportive and involved in our work. We feel valued and positioned to make a positive difference. At the conclusion of our meeting, we left our colleagues with an invitation to reach out to coaches for support of any kind to help collectively promote a culture of learning. We shared about our roles as consultants, collaborators, and coaches- and shared the powerful impact partnering for an intentional coaching cycle can have on professional growth and student learning. Immediately after that meeting, teachers began reaching out with ideas, and questions and follow up on the invitation to partner for a coaching cycle.
A grade 3 teacher reached out to me, wanting to explore how we could start podcasting with his students (I had planted a seed with the literacy coach and this teacher in passing two weeks back when I overheard he had asked the literacy coach about them, but feel the faculty meeting helped resurface that idea of partnering to work on it). He was keen to start brainstorming, so we set a time for after school the next day- Friday (you know teachers are excited when they suggest a Friday mtg after school!) When I arrived at his room, I was pleasantly surprised to see there were two other teachers joining as he had apparently spread the word on his team. While I'm not sure if it was a true "pre-observation" meeting, I do believe it marked the beginning of a coaching cycle of sorts as we worked to come to a shared understanding of what we want students to be able to do, and what goal we are working towards.
---
What's YOUR level of coaching mastery?
All coaches go through various stages of coaching mastery. Once you identify where you're at, you can begin to build the skills needed to move to the next stage.
This quiz is based on real-life case studies compiled from years of working with coaches inside The Coach Certificate & Mentorship Program!
When you receive your results, you'll also get your matching case study from the STRIVE Case Studies to see where you fit in the stages of coaching mastery.
Ready to tackle your challenges and move on to the next level in YOUR coaching practice?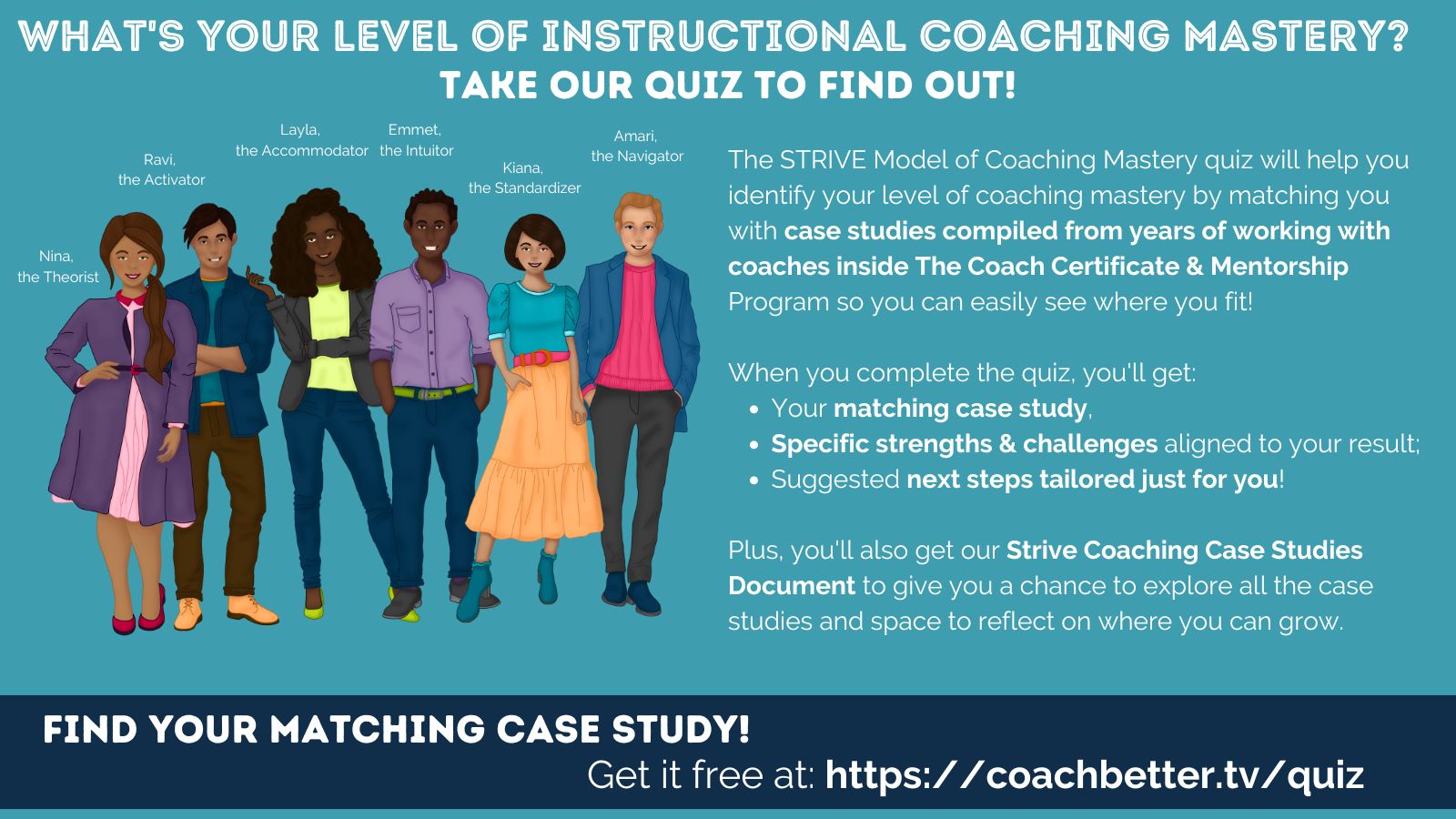 The STRIVE Model of Coaching Mastery quiz will help you identify your level of coaching mastery by matching you with case studies compiled from years of working with coaches inside The Coach Certificate & Mentorship Program so you can easily see where you fit!
When you complete the quiz, you'll get:
Your matching case study,
Specific strengths & challenges aligned to your result;
Suggested next steps for each stage;
Plus the Case Study Document includes:
Case studies leveled by coaching mastery;
A framework to identify essential stages of professional growth & key areas to focus on in your professional learning;
Alignment with the THRIVE Model for a Successful Coaching Culture;
Space for you to reflect & prioritize so you can take action immediately!
You'll go straight to the Quiz, and get the Case Study Document via email.
---
Inside the Coach continued…
Our coaching team is currently doing a book study on Jim Knight's Impact Cycle, and I have been keying in on Chapter 3: Questions to identify a PEERS goal this week.
A few key points I had in the back of my mind as we met:
•Ask one question at a time
•Let others do the talking, and pause to affirm before talking (I was intentionally doing this each time I contributed to ensure it was the teacher's thoughts driving the conversation).
•Avoid advice disguised as a question (which can take patience, particularly on a Friday afternoon!)
•"Part of your job as a coach is managing the conversation" (Tony Stotzfus, Coaching Questions: A Coach's Guide to Powerful Asking Skills)
•"…getting specific is one of the most crucial steps to take in reaching any goal" (Heidi Grant Halverson)
I'm curious to think about how to explore this coaching cycle moving forward in terms of viewing it as one cycle with three teachers involved, vs 3 teachers in a similar coaching cycle- I think they each have to spend some time reflecting on what makes sense in their room- though the interest is there for all. We landed at an essential draft goal of introducing podcasting as a new and engaging way for students to share their learning with authentic audiences (focusing on sharing with family abroad, as well as soliciting peer feedback as they. listen to one another's episodes in class and harnessing the power of that peer feedback). In this situation, I will be providing some consulting in terms of platform, tech setup, work flow, etc, but also truly coaching teachers to implement this idea they are excited about and feel ownership of.
One additional teacher popped through at the end and groaned, "I really wanted to join this mtg, but I. was double booked! So bummed I missed out!".. I can already see this potentially spreading- perhaps in more of a consulting/collaborating role with others who need more support implementing it in their classes. Which also brought me to the reminder to "keep it simple" – Jobs is known for this simplistic yet clear and efficient approach to design. "It's about making the wisest possible investment of your time and energy in order to operate at our highest point of contribution" (Greg McKeown, Essentialism: the Disciplined Pursuit of Less). When brainstorming ideas you can quickly produce very big ideas and it's important to keep the focus on student learning and starting with a powerful, realistic, and achievable goal.
I am excited to see where this conversation leads and thankful for interested, engaged teachers ready and willing to take the time and thoughtful intentionality to partner with a coach to improve student learning!
---
Read more from The Coach participants as they share their learning from the certificate & mentorship program…
Karli's post: The Coach-Principal Partnership
Kate's post: The Coach Approach
Cate's post: Seeing Yourself as a Leader
Ashley's post: Building a Coaching Program
---
Level Up Your Coaching with The Coach!
If you are ready to dive deep into your coaching practice, to help you #coachbetter and build a thriving coaching culture in your school, please join us for our next cohort of The Coach!
Wherever you are in building a coaching culture in your school, The Coach will give you the strategies, skills and tools you need to make coaching a success and will empower you to confidently apply instructional coaching strategies in any situation – from building a coaching program, to having coaching conversations, to being a leader in your school community. We facilitate only one cohort each academic year so we can offer individualized support for each participant.
Coaches of all levels are welcome: you'll start the program with a self-assessment to determine exactly what the next steps are for you!
Registration for our next global cohort opens once a year – check the website for details!