We want to give you a peek inside our Coach Certificate & Mentorship Program. Coaches taking part in this academic-year-long journey have graciously given us permission to post some of their learning and reflections from the private coursework they are undertaking during this program. Where possible, we have shared the course and the action task to give context for the guest post.
The Topic: Foundations for Success
The Task: Which of the coaching approaches is the most challenging for you?
Define your role as a coach:
I believe that coaching is a form of job-embedded professional learning, therefore, I agree with the simple definition put forth by Elena Aguilar in The Art of Coaching, "a coach helps build the capacity of others by facilitating their learning" (19). In order to do this, I believe that I need to shift between different coaching roles based on the needs of the person with whom I'm working. For example, I might be a mentor, content area expert, co-teacher or data collector. Regardless of the role, I believe I should always center the coachee's goals and be an equal partner in learning.
What does your "work" look like?
My work with teachers takes place during voluntary coaching cycles, in which I help teachers clarify their thinking around a goal. I feel like this can be a personal goal connected to their practice or one that is centered on a student learning need. Normally, coaching cycles generally include the steps of assessing needs, setting a goal, collaborating to plan/implement strategies, evaluate impact and finally, reflect on the process.
What assignments from the principal/admin might get in the way?
I think when principals ask the coach to observe a teacher it is problematic. Coaches should be seen as thought partners and collaborators and not part of the teacher evaluation process. It sends a very next message about the role of the coach. I also think that when a principal asks a coach to be a resource gatherer and or Workshop presenter, knit limits the coaches impact. Of course these things are needed from time to time but this should not be the main responsibility of a coach because it sets them up to be seen as an expert, which also can take away from teachers' sense of agency.
How is teacher professional learning impacted through coaching?
As a huge fan of Linda Darling-Hammond I was really interested to read in the Art of Coaching that her study on professional development states that teachers need close to 50 hours of PD in a given area to improve their skills and impact their students' learning. Coaching is the type of model that allows for teachers to collaborate, apply and reflect on their learning more deeply and frequently over time. When teachers are met where they are at, and supported in a trusting, collaborative relationship, they have the opportunity to grow not just their skills, but also their behaviors, beliefs, mindsets and values. This kind of professional learning is much deeper than traditional models, and therefore more enduring.
---

Find YOUR Unique Voice as a Coach!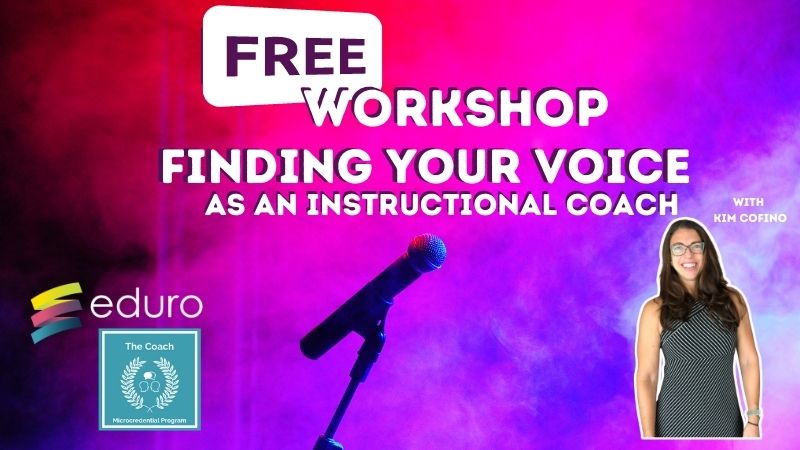 We know that coaching conversations are an art. Finding just the right questions, just the right tone, and just the right phrases for YOU as an instructional coach, that work just right with your coachees, is a special skill. When we hear highly experienced coaches having a coaching conversation, their conversational choices seem so natural and easy. That's because they have found their voice as a coach! Are you ready to find yours?
Join Kim for a free workshop, available right now, to learn the concrete strategies that I use with my private mentoring clients and inside The Coach Certificate and Mentorship program! Bonus: it's pre-recorded, so you don't have to wait to watch – and you can pause & replay whenever you need it! Are you ready to feel just as natural and confident in your coaching conversations as your coaching idols? Check out the Finding Your Voice as an Instructional Coach workshop at http://edurolearning.com/voice to get started!
---
What vision of the coaching role would you want your principal to have?
I would want the principal to be "on the same page" as me in terms of coaching being invitational. I would want teachers to choose coaching voluntarily, not because they were forced or somehow told they needed "help", as in fixing. I would also want the principal to see that while my roles within the coaching job may shift, my disposition would always be that of a facilitator, thinking partner and collaborator, not someone who is doing the professional learning TO the teacher, but rather WITH the teacher.
What support would you need from your principal?
Ideally, I would like to be able to reach clear agreement of my job role and responsibilities before starting to ensure that we shared similar philosophies of professional learning as well as a vision for coaching. Then I would like to be able to collaborate on sharing this information with faculty and parents. I believe that communication and community education is invaluable. Lastly, I would love to have my principal's trust and support that would allow me to make informed decisions and not solely rely on his/her approval regarding how I do my job.
How can you help your principal build this new understanding of coaching? What actions might you take to help them?
Hmm, this is a good question. The most obvious answer would be to engage in conversation. I would share research and personal stories of experience to help the principal understand my position about coaching. I could also share articles, blog posts or even invite them to either observe a coaching conversation I have with someone else or have a coaching conversation with them, if they are willing. I think that would be really interesting, to say the least!
Read more from The Coach participants as they share their learning from the certificate & mentorship program…
Kate's post: The Coach Approach
Cate's post: Seeing Yourself as a Leader
Ashley's post: Building a Coaching Program
Cary's post: What Challenges do Coaches Face?
---
Is it time to reflect on your coaching practice?
If this is the kind of professional learning conversation you want to be having, please join us for the next global cohort of The Coach Certificate & Mentorship Program!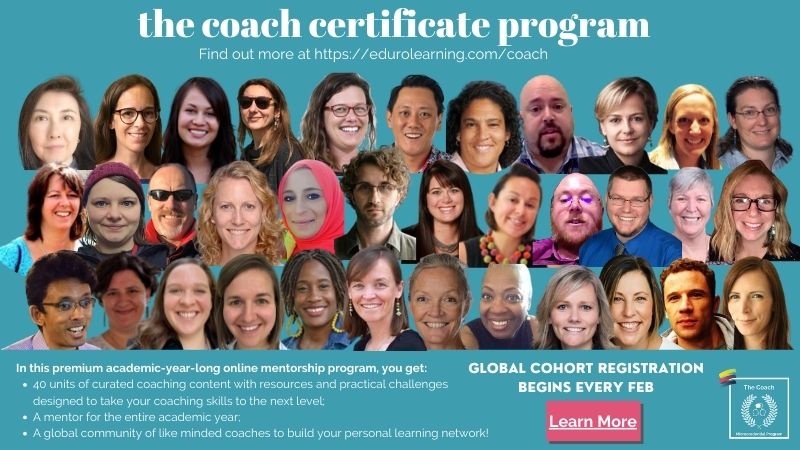 The Coach is an academic year long mentorship & certification program, where you get to learn with a global cohort of coaches. You get 40 weeks of coaching content AND a mentor for the entire academic year.
The Coach is the ONLY online certification program designed for K12 Instructional Coaches that includes an entire academic year of mentorship to provide personalized professional learning in a global, community driven environment.
Inside The Coach, you will go from feeling overwhelmed and frustrated about all of your coaching responsibilities to calm, capable and confident that you can handle any coaching situation that comes your way. You will learn how to evaluate and then transform your coaching program from start to finish.
It's the perfect way to level up your coaching strategies to be able to work with not only the super willing and engaged teachers, but also the middle of the road teachers and those that are maybe more resistant to coaching at this moment in time.
Global cohort registration opens every February!
Find out more: https://edurolearning.com/coach