We want to give you a peek inside our Coach Certificate & Mentorship Program. Coaches taking part in this academic-year-long journey have graciously given us permission to post some of their learning and reflections from the private coursework they are undertaking during this program. Where possible, we have shared the course and the action task to give context for the guest post.
The Topic: Coaching: From Theory to Practice
The Task: Have a conversation with your principal or other school leader. What are the responsibilities of the coach in your learning environment?
As I am moving into a new role (from Tech Integrationist to Innovation Coach) there was a need for a new job description to be drafted. In the conversation that I had with the ES leadership team about the new job description, it was pretty clear that the role was to find ways to embed design thinking into our curriculum as well as manage the physical spaces that we have for that. The role is pretty clearly laid out and understandable.
The issue is with who is going to do the "other stuff" that I was doing as an ES Tech Coordinator, which was a stipend role, not a full-time role. We only just developed a role of Digital Learning Coach and then Russian politics made it so that visa issues meant that we spent a year with 3 people in a department that should have had 6 people. So we spent 2019-2020 treading water and moving existing programs along but not developing our team into what we imagined it to be. In 20-21, We are supposed to be 5 strong but are only 4 due to late hiring, visa, and pandemic issues. So the transition has been slow. The new person who has come into the elementary needs time to train and learn our setup. The assistant we have needs time to learn to take over systems that she has had a minor role in but will now have a stronger role in. Also, systems that often only have parts to set up and learn at the beginning or end of the year.
---
Find YOUR Unique Voice as a Coach!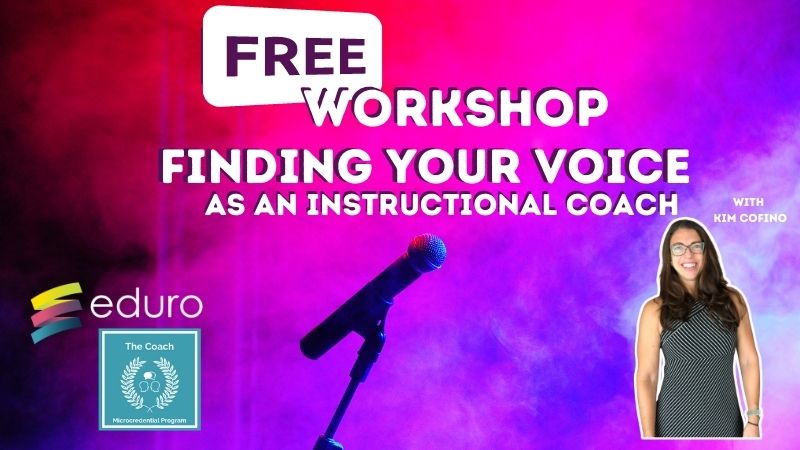 We know that coaching conversations are an art. Finding just the right questions, just the right tone, and just the right phrases for YOU as an instructional coach, that work just right with your coachees, is a special skill. When we hear highly experienced coaches having a coaching conversation, their conversational choices seem so natural and easy. That's because they have found their voice as a coach! Are you ready to find yours?
Join Kim for a free workshop, available right now, to learn the concrete strategies that I use with my private mentoring clients and inside The Coach Certificate and Mentorship program! Bonus: it's pre-recorded, so you don't have to wait to watch – and you can pause & replay whenever you need it! Are you ready to feel just as natural and confident in your coaching conversations as your coaching idols? Check out the Finding Your Voice as an Instructional Coach workshop at http://edurolearning.com/voice to get started!
---
I am trying to figure out how to manage all of that while not taking on new work that "isn't my job, but who else is going to/can do it". It is quite difficult to separate the two and I think this is a large reason why many tech integrationists/coaches end up doing a lot of tech support. The reality is that you can't go in and talk to a teacher/class about using tech if the tech isn't working. So as part of our role, we do need to do a level of problem-solving. I mean you can't go into a classroom and help a teacher use tech if ½ the students' iPads aren't working correctly! There is also the issue that oftentimes the "tech team" (software/hardware team) is tied up when a teacher needs them and you know how to solve the problem, so you do. The biggest issue is when teachers depend on you only for that support and don't realize that you were doing them a favor and that was not your job the first time they called.
I have been doing this for 9 years now and I still haven't worked out the balance of this.
---
Read more from The Coach participants as they share their learning from the certificate & mentorship program…
Andre's post: Making It Work
Abby's post: How Do Coaches Work? Learning from Coaching Styles
Debra's post: The Coach Approach
David's post: What is Coaching? (Coaching as Leadership)
Level Up Your Coaching with The Coach!
If you are ready to develop your coaching practice over the next academic year, and explore topics like the coaching balance, building and sustaining coaching relationships, and enhancing professional learning, please join us for our next cohort of The Coach! Wherever you are in building a coaching culture in your school, The Coach will give you the strategies, skills and tools you need to make coaching a success and will empower you to confidently apply instructional coaching strategies in any situation – from building a coaching program, to having coaching conversations, to being a leader in your school community. We facilitate only one cohort each academic year so we can offer individualized support for each participant. Registration for our next global cohort opens on the 21st February and closes on the 14th of March.