For the last few months I've been having conversations with school leaders and coaches about the support they need in building their coaching program. These schools are either in the initial stages of building a coaching program, or they're working to refine their coaching program because there are elements that are not working right now.
One huge common element in all of these conversations is a lack of clarity around the definition of coaching. They all have a vision for coaching, often with very lofty beautiful goals like transformative learning and collaborative partnerships for growth.
The problem is, without a definition of the actual coaching work, it's going to be very hard to determine staffing, implement the program, and then measure the outcome.
When you're starting to be more intentional in your coaching role (or if you're beginning to build a coaching program), the very first step towards success is finding clarity.
That's why Finding Clarity is the first phase of The Coach Certificate and Mentorship Program. We follow the Thrive Model for instructional coaching success, and to build a thriving coaching culture you need clarity in many facets of your work. If you're curious to learn more about the Thrive Model, click here to download our program evaluation, read the overview, or watch the workshop on how to bring this work to your coaching practice!
In last week's episode Clint and I talked about what coaching is, and why defining coaching is so important. Today we're going to focus on clarity in the coaching role, and next week I'm going to be talking to a few of our mentors in The Coach about the Thrive Model so you can see how clarity fits in with the bigger picture.
---
EXPLORE THE THRIVE MODEL
Are you working on building a coaching culture in your school setting?
To make coaching both sustainable and successful, you need clarity, consistency, and community.
Unfortunately, most schools are missing at least one! Is yours?
Use the Thrive Model to find out!
Developed after working with hundreds of coaches and leaders in international schools around the world, the Thrive Model incorporates both the macro view of a coaching program, and the micro view of a coaches practice, to bring together the three essential elements to make coaching both sustainable and successful.
Explore all of our resources about the Thrive Model at edurolearning.com/thrive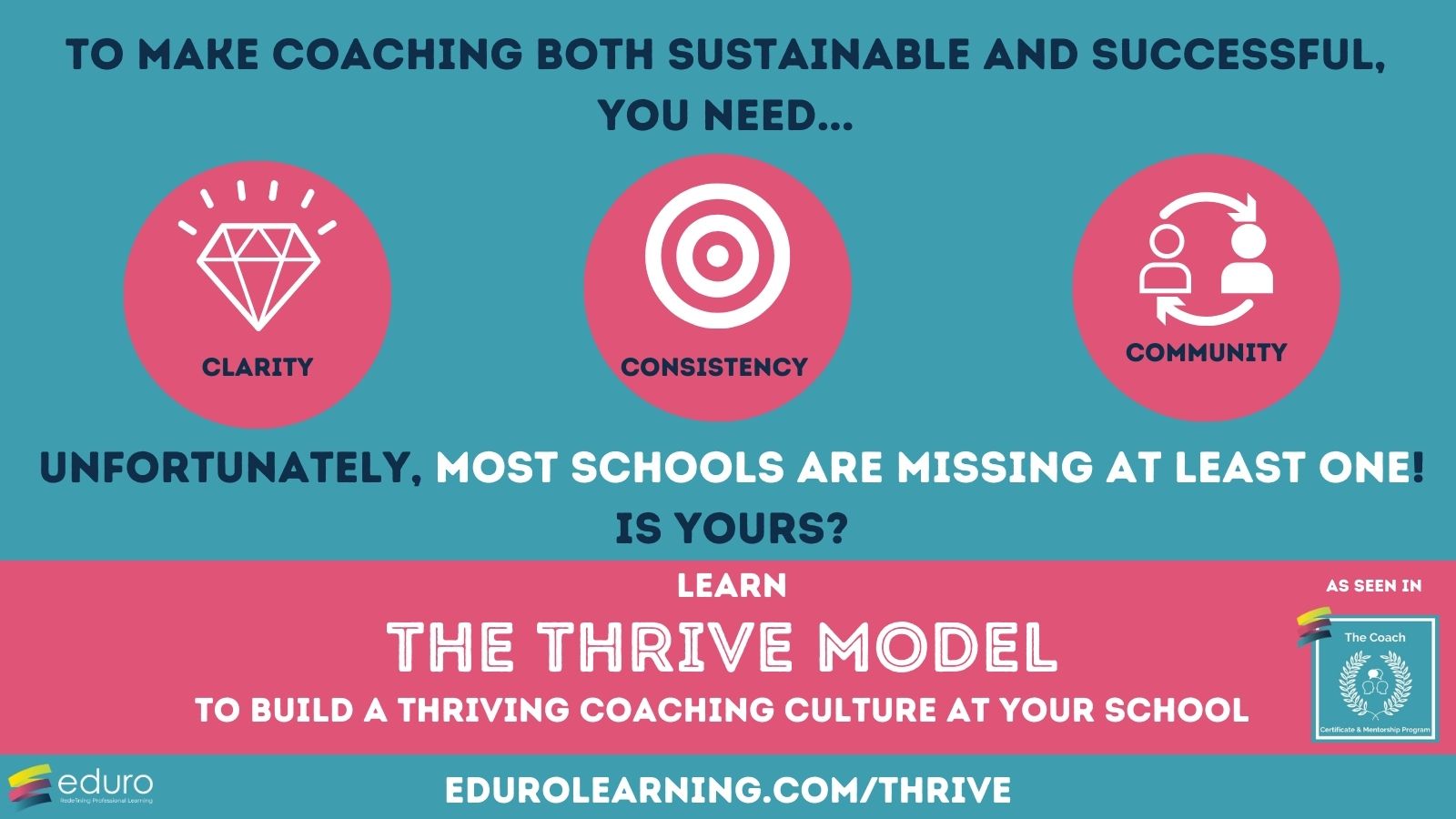 ---
Ok, let's talk about the importance of clarity in your coaching role…
Here are 4 reasons you need clarity in your coaching role:
1: To Implement the Work
The most important reason you need clarity in your coaching role is that you need to be able to define your work to be able to implement it. Until you know exactly what the role is, and what the person in the role should be doing, it's very hard to actually do the work (or even write a job description).
As Joellen Killion said on episode 146 of the podcast with me "If I can describe it with specificity, it is far more likely to be achieved, than if I don't have the capacity to be specific."
As I mentioned last week on the podcast, I define instructional coaching as: a formal or informal process that:
is non-evaluative and confidential (and not tied to appraisal)
starts with teacher goals and is invitational for teachers to access
involves a cycle, structure, or system of self-reflection
operates close to the classroom, with observation, co-teaching, or modeling as a central part of the experience.
This leads me into the second reason that it's essential to have clarity in your role as an instructional coach….
2: To determine WHO is doing the work
I shared my definition of coaching (again) to note a couple of key elements: coaching is:
non-evaluative (not tied to appraisal),
confidential,
invitational (not required),
initiated through teacher goals.
Those are big non-negotiables in the area of instructional coaching.
As soon as you take away any of those elements you may be having coaching conversations but you are not a coach. In this sense I'm talking about who holds the title of "coach". Anyone can have a coaching conversation (there are many models of coaching), but only people with the specific responsibilities listed above should hold the title of instructional coach.
For example, you may be a:
supervisor or administrator who has coaching conversations, but your job title should not be coach.
department or year level head who has coaching conversations, but your job title should not be coach.
curriculum coordinator who brings a coaching lens to their work, but your job title should not be coach.
Anyone can have coaching conversations any time (and there are specific skills to learn to be successful at having those kinds of conversations) but to truly invest in building a coaching culture, coaching needs to be invitational and safe. Neither of those can truly be offered by someone in a supervisory or evaluatory position.
In an upcoming episode of the podcast, I chat with Kaitlyn Pettinga, Associate Principal at the International School of Panama, where she says: "As a school leader, one of our roles is observing and evaluating teachers. As much as I want to have coaching conversations, I know those conversations need to be non-evaluative to allow the teacher to be truly vulnerable. A coach is someone who is unbiased and non-evaluative."
For example, the concept of coaching is becoming increasingly trendy in international schools right now, particularly in the Asia region and we are seeing many more "coaches" on staff. The challenge is that many of those coaches are simply job title changes. I recognize this from my time in edtech. First I was called a Technology Teacher, then Technology Facilitator, then Technology Coordinator, then Technology Integration Specialist, then Technology Coach and then Technology and Innovation Coach. However, the job description for all of those roles remained relatively constant – and we never really discussed, in depth, the difference between those roles.
In fact, it was as a technology coach that I first started to understand the power of instructional coaching and just how much I could learn about coaching (even though I already had the title for many years!). Now the trend seems to be to re-title Coordinator or Head of Department or Year Level Leader roles to be called "coach". Unfortunately this is even more problematic.
Until we clarify what we mean about coaching, it may be possible for people to consider their work coaching, and even advocate for the title of coach, when, in fact, their work is not coaching, but might include coaching conversations. When we have conversations around what coaching is, and what it isn't, we can prompt great discussions with school leaders and colleagues.
It's those conversations that help us build a culture of coaching, which brings me to my 3rd reason why it's essential to find clarity in your coaching role…
3: To Invite Others to Be Coached
We all have past experience with someone we called a "coach". For some this was positive, for others, it wasn't. To be able to invite our colleagues to be coached, we need to be able to clearly communicate the role, so they can understand what coaching means in this context and the value it may hold for them, right now.
In episode 144 on this podcast, Diane Sweeney highlighted that "For coaches to be successful… coaches need to clarify what coaching is and what coaching isn't to the whole division and then grade level." This clarity allows you to be consistent in your coaching work, and provides a clear expectation for what your coaching partners will experience when they work with you.
Teachers are extremely busy, for them to make the choice to opt in to working with you, to share their time, space and students with you, they need to know what to expect and what the outcome might be.
For more details on how to communicate your role as a coach, check out two of my previous QuickTips episode: Communicating Your Role as a Coach & Moving From Reactive to Proactive in Your Instructional Coaching Role
All of this comes together in my fourth reason it's essential to have clarity in your role as a coach…
4: To Measure the Outcome of the Work
Only once you have defined the role, and achieved clarity about the work required, can you implement and measure the outcome of your work.
How do we know if we're being successful if we don't know what to track and what data to collect?
How do we know we're having an impact if we're not sure what the expected outcomes might be?
This is when we get into the stressful area of having to validate the role of the coach – often to others who may not have a clear understanding of what coaching is and what coaches do, because the work has not previously been defined.
As you can see, all 4 of these are interconnected and support the success of coaching in a school setting. 
If you're struggling with any "downstream challenges" like:
confusion around your own priorities
a lack of interest in being coached,
admin assigning you non-coaching tasks,
frequent requests for validation of the role (including extreme tracking methods)
it's likely that one (or all) of the four elements above are part of the issue.
In so many schools "coaching" has a bad name. I have worked with many clients that aren't allowed to call the work they do "coaching" because of past iterations of coaching programs in that community.
Don't let that happen to you!
If you are starting out building a coaching program now, or if you have the chance to refine your program, please follow the Thrive Model and start with Finding Clarity!
If you need support in the process, join us for the next cohort of The Coach Certificate and Mentorship Program where we will walk you through it from start to finish!
You can find all the details on our website at edurolearning.com/coach. 
Watch the Video
Ready to be more intentional in your coaching practice?
If you're ready to dig deeper into being more intentional in your coaching practice – or if you're new to instructional coaching and you're curious about getting started, join us for one of our courses for coaches!
One of the things we're most proud of here at Eduro is that there's no one-size-fits-all learning – you always have choice and voice in how you learn with us. Today's video highlights some of the key themes that you'll find in three of our programs, and if you're curious to take your learning deeper, we have three great options for you.
New Coaches:
If you're just getting started as a coach, and you want to learn how to make these mindset and skillset shifts, watch our New to Coaching Workshop, which will also tell you all about our brand new course, Getting Started as a Coach.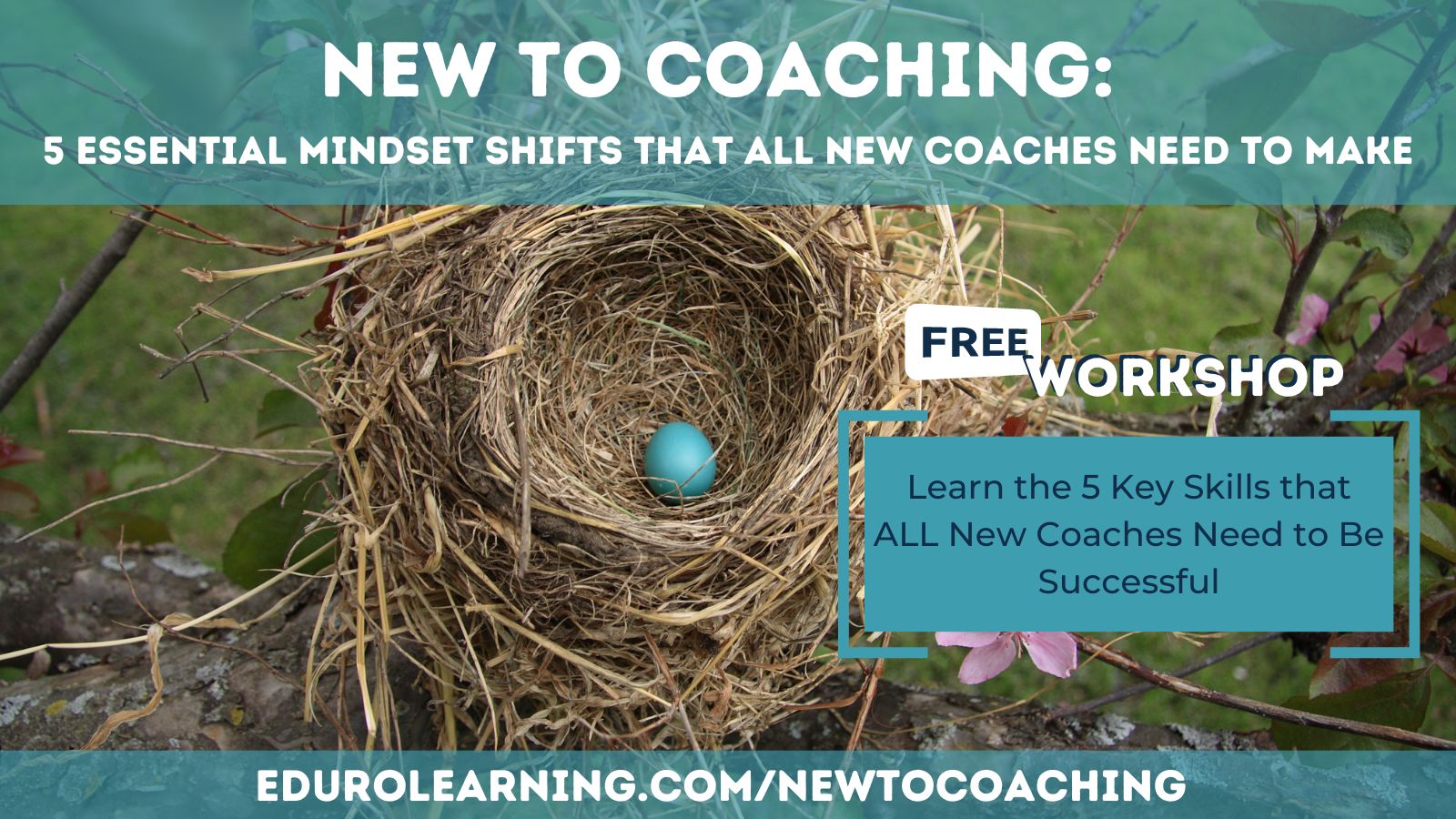 Experienced Coaches:
If you're already a coach & you want to think about being more intentional & strategic in your practice, watch our workshop on the Thrive Model for Coaching Success which will help you evaluate your program to see where you may have room to grow – and help you decide if our year-long mentorship and certification program, The Coach, is right for you, right now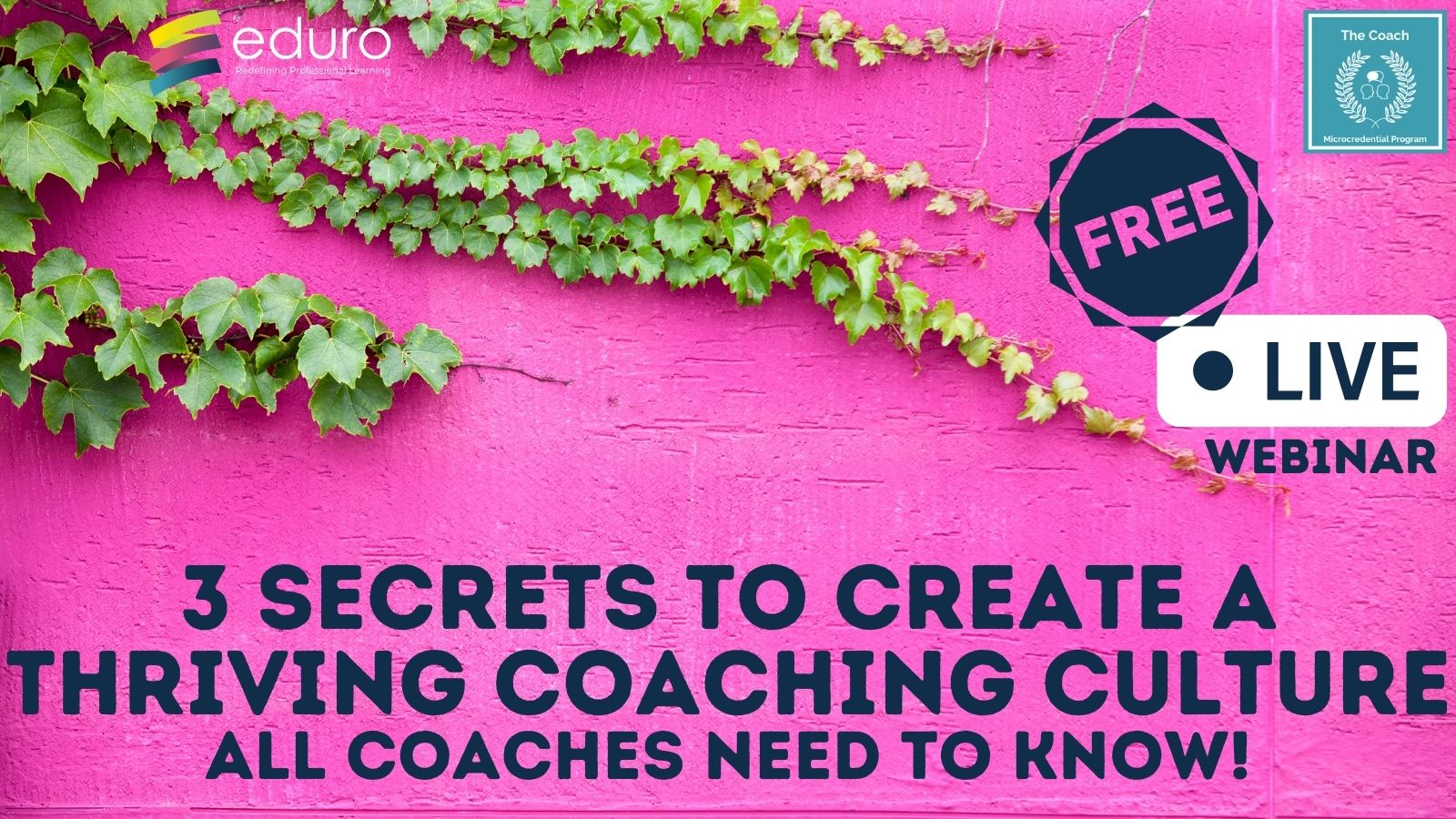 Just like all our learning experiences, the content in both of these courses is self paced so you get access to everything immediately – but you get so much more: when you join the course, you get access to our #coachbetter global community with optional group coaching calls at various time zones to meet & connect with other coaches PLUS private office hours with me to get all your questions answered & work through anything coaching related in your unique school context.
Wherever you are in your coaching journey, we can support you!
For All Coaches
Connect with us!