Hello coaches! Welcome back to another episode of #coachbetter! In this episode, Kim talks with Shei Ascencio, experienced Service Learning Coordinator, international school educator, and one of our amazing The Coach participants!
Shei is so passionate about building a student-focused service learning program that once she and Kim began working together for The Coach, we knew we had to have her on the podcast to share her experiences. In many of our schools, we are striving to build a rich, robust and student-driven service learning program, but it's not easy. Shei shares her key structures for building a successful program, the challenges schools face, why service learning is so important and how you can measure the impact of your program. This episode is a masterclass in designing authentic service learning programs that put students at the center!.
This episode is a great insight into the kinds of learning that happens within our online certificate programs. Eduro offers professional learning for educators at the intersection of technology, coaching & leadership. COETAIL, The Coach, and Women Who Lead will empower the relentless learner in you to embrace your inner leader and make a bigger impact in your school setting. Find out more at edurolearning.com
Featured Guest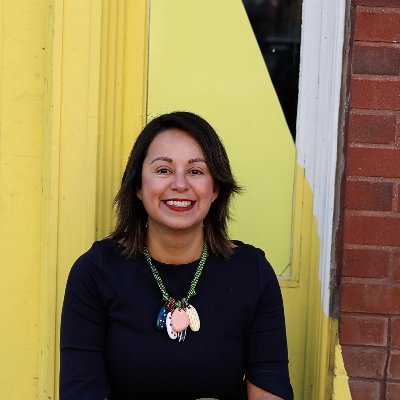 Bonus! Watch the Spotlight Version on YouTube!
Show Notes
Tell us a little bit about your journey into education and to where you are today
5 years dedicated to service learning, 20 years of teaching experience
Overseas for 20 years. From Mexico. Moved to Eritrea 2 years after graduation. Dubai, Tashkent, Beijing, Angola. Luanda for 5th year. CBK Associates, 2 years ago, which has changed the way I see service learning, and has really shaped me.
We need a framework, not a recipe. It's an organic process, students need to be at the center of service learning. Fluid and organic elements, take the learner at the very core of service.
You've built a strong, student-focused service learning community at your current school, how do you do it? What are the replicable elements that others can learn from?
3 main elements to service learning:
1:: Administrative side: document student work, meeting requirements, preparing timelines, running risk assessments
2:: Learning & teaching: strong connections to curriculum, plan for authentic and meaningful opportunities for students to engage. Establish frameworks, approaches, key common understandings utilized across the school. (CBK 5 stages of SL), skills are explicitly taught, transferable skills. Sustainable Goals are embedded. Having these key elements established & well understood by the community is essential. Collaboration between students and teachers: students identify within the curriculum, needs they can tackle. Sustainability: systems, ensure projects are sustainable
3:: Reciprocal partnerships & collaboration: when you leave the walls of your school and engage directly with the community. By doing this, you understand so much more the issues that the community is facing, and how you can engage students. Use the ripple effect: Start within school (what connections are there within the school with other experience, connections – teachers, parents, admin assistants); then move to community (other organizations, people) and grow broader country, region, global. Partnerships are essential because it puts students in touch with the needs of the community and promotes action. There's always going to be a need in our community.
A local issue of global importance. Students are learning directly from an Angolan national and she's seen first hand how the coastline has been damaged by development. The kids are in direct touch with the issue and the people who are working to make a difference.
In your experience, what makes service learning successful (f2f or remote)? How has remote learning impacted SL?
Because the elements were established, we just kept things going. Framework already existed, understand action research, which set students up for success. Students are at the coare, they identify the need or the issue & once it's been solidified they initiate projects.
During remote learning service learning did not stop. Sent out surveys to get feedback from students, established yoga sessions. K12
Why is service learning so important? For students, teachers, and parents? F2F & remote?
Service learning is the "so what" of learning? There's a lot of content happening in classrooms, service learning brings all these learning and teaching elements to life. Students have meaningful opportunities to apply all that learning that happens in the classroom and use it in meaningful and relevant ways in the community. If these projects weren't happening, those skills & dispositions are trapped in the classroom, they're not really bringing them to life. Full community involvement. The meaning and the relevance are where we see the product of the knowledge and the curriculum, this is where students apply it.
---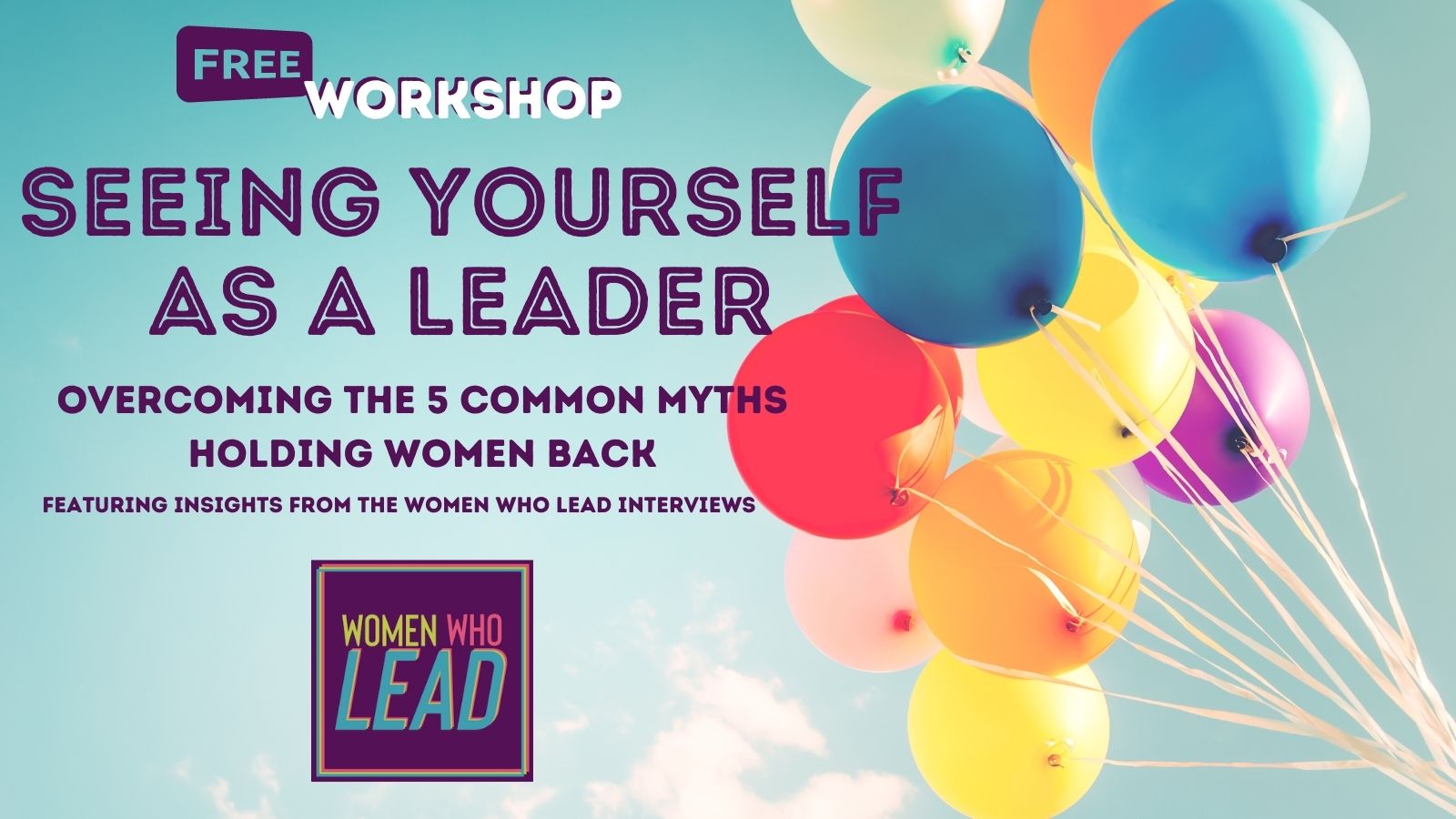 Do you wish you could make a bigger impact in your school setting? Is this the year you commit to your own leadership potential? Or will it be another year you'll spend saying you're not ready "yet"?
As an experienced educator, you are likely demonstrating leadership skills every day, by building quality relationships, or managing teams, or having coaching conversations. But if you find it hard to recognize your own leadership capacity, you might be experiencing feelings commonly referred to as "imposter syndrome."
Many educators, especially women, allow these feelings to keep them from taking the next step in their career. If that sounds like you: stop letting negative self-talk hold you back!
Learn how to crush your imposter syndrome before it gets to you with our new FREE Workshop: Seeing Yourself as a Leader: Overcoming the 5 Common Myths Holding Women Back, available right now!
Inside the workshop, you'll get a sneak peek into some of the rich conversations inside Women Who Lead, and hear from very successful leaders who still struggle with imposter syndrome – as well as how they've learned to handle it. If you can, pause this podcast episode right now and head over to edurolearning.com/leader to register – the workshop is only available for a limited time! But, because I know how busy you are: it's pre-recorded, so you can watch anytime once you register, and then pause or replay whenever you're ready.
Don't let imposter syndrome hold you back this year! Access the workshop now at https://edurolearning.com/leader
---
Show Notes continued…
How do you get the really authentic piece / not tokenism?
You have to be intentional about explicitly teaching certain skills and knowledge. The authenticity comes when students learn to identify a need or an issue. Things can go wrong when we start assuming there is a need or an issue. You have to let them experience, identifying the need or issue, to determine if this is a project that needs to be done. We can assume students know how to do all the aspects of identifying the need or the issue: interviewing, going on an excursion, planning data collection.
How can we / should we measure the impact of service learning?
At the end of each year,
1:: in-person mechanism to measure impact. 3 different groups: students (Plus Minus Indiferent, Areas for Growth); focus groups (leaders of learning); interviewing with the larger community (parents, teachers from other sections, teaching assistants)
2:: independent reflection, could be with IBDP & MYP coordinators
3:: surveys
4:: documentation: guide for students, for advisors, for volunteers, reviewing those guides & making sure there's a student voice part of this process. Builds sustainable systems to change and modify your program. Every second-year review is a sustainable way to review and keep your program alive and up to date. Activity logs: how the outings are going connections to curriculum, how is the partnership working?
What is the biggest challenge schools face in implementing a strong student-led service learning culture? What strategies do you have to deal with those?
Turnover, but having systems and frameworks, if those are established within the teaching community, those systems and frameworks stay. Goes hand in hand with the review of the program. Having those basis established helps with continuity
Motivating students to take on service learning. A way to tackle that is to look for opportunities, instead of what is stopping us, what are the opportunities the hybrid model is providing for us. All organizations want to connect. Look for opportunities, what can I do with what I have. Reach out. People are desperate for connection, you need to take this opportunity to connect with others. You can still be meaningful about what is happening in your community, but engage at a global level. Guest speakers. Look for entry points, how can I inject some energy into my
What do you see as the future of service learning?
Connection. Students are better connection. Not only people working in the SL community. Students found a voice at a global scale. They are initiating projects. I'm seeing youth organizing events at a global scale. More connected, teachers, but also students. Action happening at a larger scale and having more partnerships.
---
Private Mentoring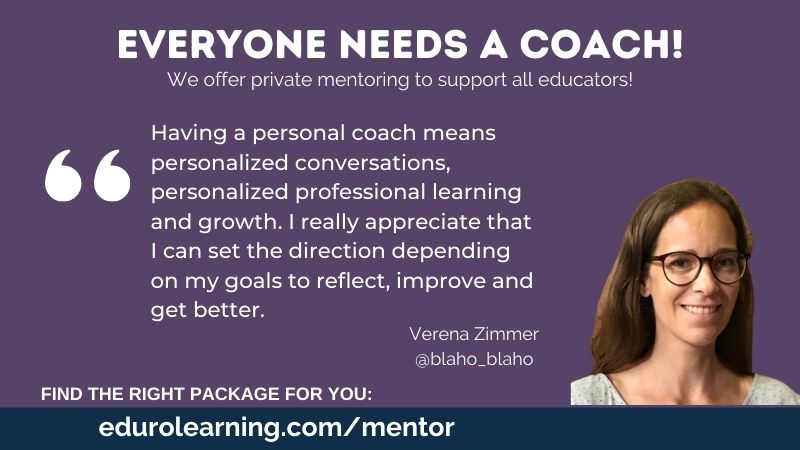 If a reflective positive-minded success oriented conversation is one that you would like to have as part of your professional growth, please head over to a https://edurolearning.com/mentor.
We would love to support you in your professional goals right now, next month, next academic year! If you have a specific goal or a specific challenge or something you really want to develop into as an educator, we can support you. Our private mentoring packages are designed for educators who have specific goals and would like the support of an outside sounding board and coach to help make them happen. You'll work one-on-one with your mentor as a thought partner, to help mediate your thinking and support you in achieving your unique goals in a timeframe and environment customized just for you.
Find out more: https://edurolearning.com/mentor/