This #coachbetter episode features Ken Shelton, who is currently working with schools around the world on technology, equity and inclusion. Ken's extensive background with many different school communities provides lots of insight for those of us working towards social justice, and in particular through the lens of technology for equity. If you are interested in coaching for social justice and tech equity, this episode is for you!
Bonus: Watch the spotlight version of this episode on YouTube!
Ken Shelton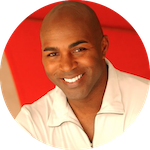 Our workbook covers the following topics, including resources, challenges AND room to jot down your own thoughts and ideas!
The Many Roles of an Instructional Coach

Essential Skills for Coaches

The Difference between Consulting, Collaborating & Coaching

The Coaching Cycle

What Instructional Coaching Looks like in Practice

How to Have a Coaching Conversation

Coaching Models

How to Build Momentum Around Coaching

Leading Professional Learning

Working with Reluctant Teachers
Printable & Digital (editable)
Coaching Conversation Journal
Goal Setting Template
Milestone Tracker
PD Session Template
Parent Training Checklist & Template
Coaching Self-Assessment
Relationship Builder
See Think Wonder Classroom Observation
Time Management for Busy Coaches
Question Stems & Sentence Starters
both for the introductory price of
 JOIN OUR MAILING LIST
Sign up for our #coachbetter mailing list to receive a newsletter every other week all about coaching in a school context. Each FREE newsletter features one of our relevant coaching videos, a practical coaching tip you can use right away, plus a great resource created or selected by the Eduro Team to help you #coachbetter!
CLICK HERE
#COACHBETTER ON FACEBOOK
Connect with other coaches, just like you, in our free #coachbetter Facebook group:
CLICK HERE
EVEN MORE COACHING RESOURCES
See all of our Eduro Learning coaching resources!
CLICK HERE
If there's something you're interested in, and we don't have it, let us know!
PRIVATE MENTORING
Or if you want to see what the private mentorship experience is like, check out our Private Coaching sessions – and get your first coaching session for free – here:
CLICK HERE
ABOUT #COACHBETTER
We're passionate about the impact instructional coaching can have on school culture, student learning and teacher professional growth. This podcast allows us to share inspiring ideas about coaching through conversations with innovative educators from around the world. Let us help you #coachbetter! We would love to hear your thoughts, ideas and questions so please drop us a comment below!
Join the SlowChat #coachbetter
Connect with our current participants and graduates while discussing the content of any of our episode on our #coachbetter Twitter slow chat.
Now you can subscribe to #coachbetter via your favorite Podcast Player!
#coachbetter edition
Subscribe to THE Relentless Learning #coachbetter edition to receive coaching tips, videos & curated resources specific to instructional coaching delivered straight to your inbox.
Be the first to know about promotions, special offers, and #coachbetter news!