We want to give you a peek inside our Coach Certificate & Mentorship Program. Coaches taking part in this academic-year-long journey have graciously given us permission to post some of their learning and reflections from the private coursework they are undertaking during this program. Where possible, we have shared the course and the action task to give context for the guest post.
The Coach Final Project
The Final Project is a chance for you to reflect on everything you've learned and/or discovered throughout this Certificate Program. You will create an 8-10 min video sharing on the goal that you set, documenting the process of working towards your goal, reflecting on your achievement and sharing the process/outcome with our learning community. The most important part of your personal project is that it's relevant to you, and you can demonstrate, through documentation and video, the impact your work has had on your school.
Watch Karli's Video
She says: "I joined The Coach because I felt like a first year teacher all over again! I really needed clarity and support around the foundational work of coaching, and this course delivered just that. My goal centered around strategic design and planning for coaching conversations, and included lots of basic coaching skills. I hope my personal project video shows my growth."
Read Karli's Reflection
My biggest area of growth in the program has been in my coaching skills, which is great because that has been my goal. At the conclusion of the course, my self-assessment survey shows that I am now "feeling good" to "super confident" about all of the basic skills, which I think is pretty accurate in terms of my proficiency in the coaching competencies. My reflective practice is the strongest, followed by communication skills and relationship development.
I still have room to grow in the change facilitation and knowledge base development coaching competencies, which I think stems from my beginning understanding of school systems and general management, from an administrative perspective.
Now that I look back, I think it was a bit silly for me to be surprised that adult learning would look so different from that of children, but that was actually one of my surprises. I was a confident classroom teacher and when I began working with adults, I suddenly realized that I wasn't prepared! LOL Once that realization sank in (pretty quickly), the challenges of working with resistors and effectively communicating with coachees began. I still have a lot to learn, and I'm super happy to continue to do so. I also realize that I need to give myself some grace along the way because I tend to want to do everything right (recovering perfectionist).
In terms of your Personal Project, my growth in my ability to effectively prepare for and facilitate coaching conversations has gone really well. I am now more confident because I have learned skills and strategies that work. It has been a long and challenging year, both professionally, but mainly personally, so I am proud of myself for hanging in there and keeping up!
Looking ahead to completing your Personal Project, I need to mainly focus my energy on creating the video. No, it's not ready to be uploaded right now, I haven't even started. Making videos is not my strongest skill set, so maybe I need COETAIL 😉 Anyway, I am about to make the video and will focus more on the content and the quality of my reflections, than the quality of my video-making skills.
---
What's YOUR level of coaching mastery?
All coaches go through various stages of coaching mastery. Once you identify where you're at, you can begin to build the skills needed to move to the next stage.
This quiz is based on real-life case studies compiled from years of working with coaches inside The Coach Certificate & Mentorship Program!
When you receive your results, you'll also get your matching case study from the STRIVE Case Studies to see where you fit in the stages of coaching mastery.
Ready to tackle your challenges and move on to the next level in YOUR coaching practice?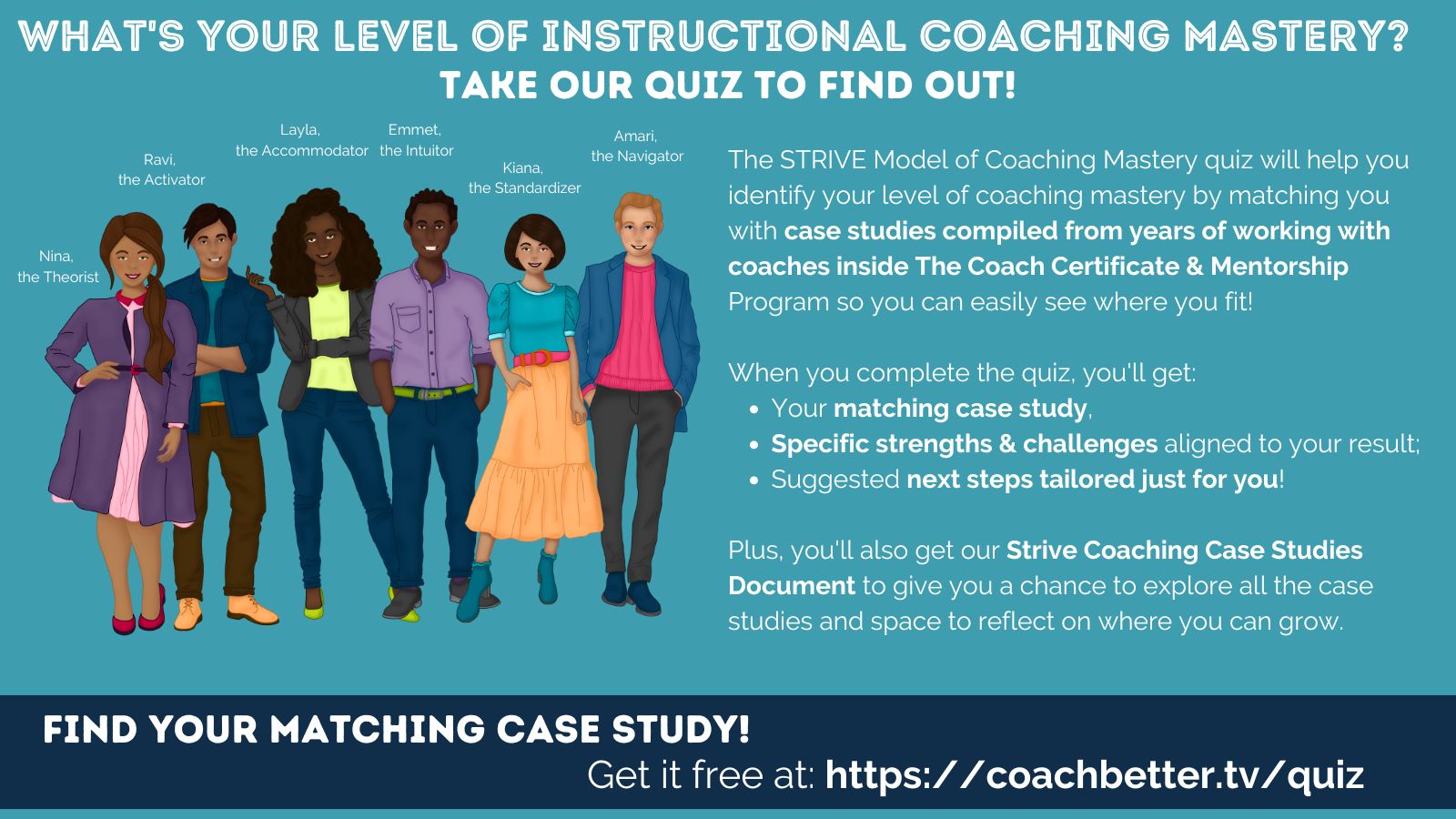 The STRIVE Model of Coaching Mastery quiz will help you identify your level of coaching mastery by matching you with case studies compiled from years of working with coaches inside The Coach Certificate & Mentorship Program so you can easily see where you fit!
When you complete the quiz, you'll get:
Your matching case study,
Specific strengths & challenges aligned to your result;
Suggested next steps for each stage;
Plus the Case Study Document includes:
Case studies leveled by coaching mastery;
A framework to identify essential stages of professional growth & key areas to focus on in your professional learning;
Alignment with the THRIVE Model for a Successful Coaching Culture;
Space for you to reflect & prioritize so you can take action immediately!
You'll go straight to the Quiz, and get the Case Study Document via email.
---
Read More from Karli
What were your goals for this microcredential and how did you plan to meet those goals?
My goal for this micro-credential was to develop my foundational coaching skills by starting with Strategic Design and Planning (SDP), as explained by Elena Aguilar. These coaching behaviors include conversation planning, work planning, ZPD and gradual release, use of data, feedback on coaching and sense of impact. I planned to meet these goals through intentional practice and reflection throughout the course of The Coach.
What would success look like if you met your goals? What steps do you think you need to take to reach those goals?
I know I will be successful in reaching these goals when I am able to demonstrate these skills with proficiency and feel more comfortable and confident coaching others. Helping teachers reach their goals will be evidence that my coaching skills are effective. In order to reach these goals, I need to seek feedback from the coachees I work with so I can apply it as I continue to work on growing my skills.
What challenges did you think you and/or your stakeholders might face and how did you plan to overcome those challenges?
Since much of my role as a coach is associated with ongoing, school-wide, professional learning, I thought I might face the challenge of working with a colleague who was not open to the coaching process, so I planned to meet these colleagues at their point or readiness, focusing on building a trusting relationship in hopes that the individual may become more willing to engage at a later point. Since I believe that coaching must happen by invitation only, I chose to let my coachees set the pace and depth of our interactions.
What did you think the impact would be on your school environment as you worked towards and ideally, achieved your goals?
As I worked to achieve my goals, I thought the resulting impact on my school environment would include more teachers having a better understanding of the coaching process and teachers would feel a greater sense of efficacy after having collaborated in a coaching cycle with me.
What are you hoping to see in your school environment as you conduct and conclude the project
I wish to see more collaboration and sharing amongst teachers and a stronger sense of collegiality. Most importantly, I hope to see a "coaching culture" taking root at our school and more teachers choosing to engage in coaching.
View Karli's Course Engagement Presentation
---
Level Up Your Coaching with The Coach!
If you are ready to develop your coaching practice over the next academic year, and explore topics like transitioning your work from individuals to teams, please join us for our next cohort of The Coach!
Wherever you are in building a coaching culture in your school, The Coach will give you the strategies, skills and tools you need to make coaching a success and will empower you to confidently apply instructional coaching strategies in any situation – from building a coaching program, to having coaching conversations, to being a leader in your school community. We facilitate only one cohort each academic year so we can offer individualized support for each participant.
Registration for our next global cohort opens once a year – check the website for details!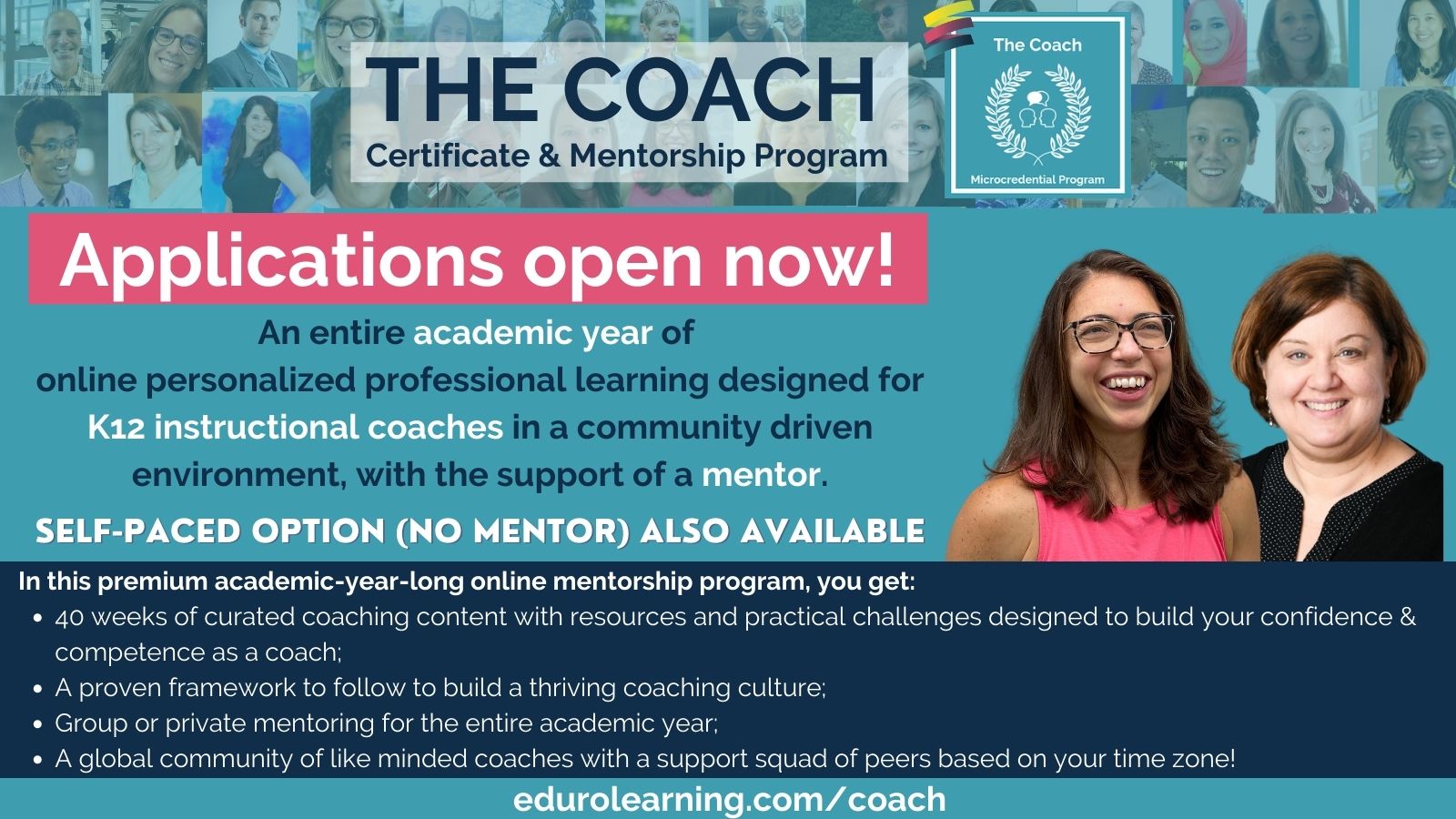 Find out more at: https://edurolearning.com/coach/