It's easy to get stuck thinking you're not a leader if you don't have a formal title.
But, often you're already either demonstrating or building your leadership capacity – even without a title!
What makes you a leader?
I've been thinking about this topic since I conducted the Women Who Lead interviews! I had so many amazing conversations with successful women leaders in schools all over the world, and one consistent theme that came through is that many of our successful women leaders didn't recognize they were leading in an informal capacity until someone pointed it out to them.
Once they realized that there are ways to demonstrate your leadership capacity at any level of the school – even if you're not in a formal leadership position – they were able to begin to own and recognize their own leadership potential. I want that for you too! The key is to recognize the work you're doing as leadership, to start seeing yourself as a leader.
Teachers (or coaches) often think of themselves as "just a teacher" (or "just a coach"). We often don't perceive ourselves as leaders, because we're doing the work we know needs to be done. Plus, because there are usually so few leadership positions in schools it can be hard to see how you can move from teaching (or coaching) into formal leadership.
You might feel "stuck" where you are, or you might feel like the pathway to leadership is hazy or gray. You might also feel like other don't see or recognize your leadership (yet) – including yourself.
The first step is recognizing that there's leadership at every level – you can be a leader, even when you're not in a formal leadership position.
When you can see the work you're doing (that goes above and beyond) as leadership, you can start recognizing and owning your leadership. If you ready to step into formal leadership, or you're working towards a new informal leadership role, this will help you articulate your experience that way in the job search, and you'll be able own your skills in the interview process.
---
What's YOUR level of coaching mastery?
All coaches go through various stages of coaching mastery. Once you identify where you're at, you can begin to build the skills needed to move to the next stage.
This quiz is based on real-life case studies compiled from years of working with coaches inside The Coach Certificate & Mentorship Program!
When you receive your results, you'll also get your matching case study from the STRIVE Case Studies to see where you fit in the stages of coaching mastery.
Ready to tackle your challenges and move on to the next level in YOUR coaching practice?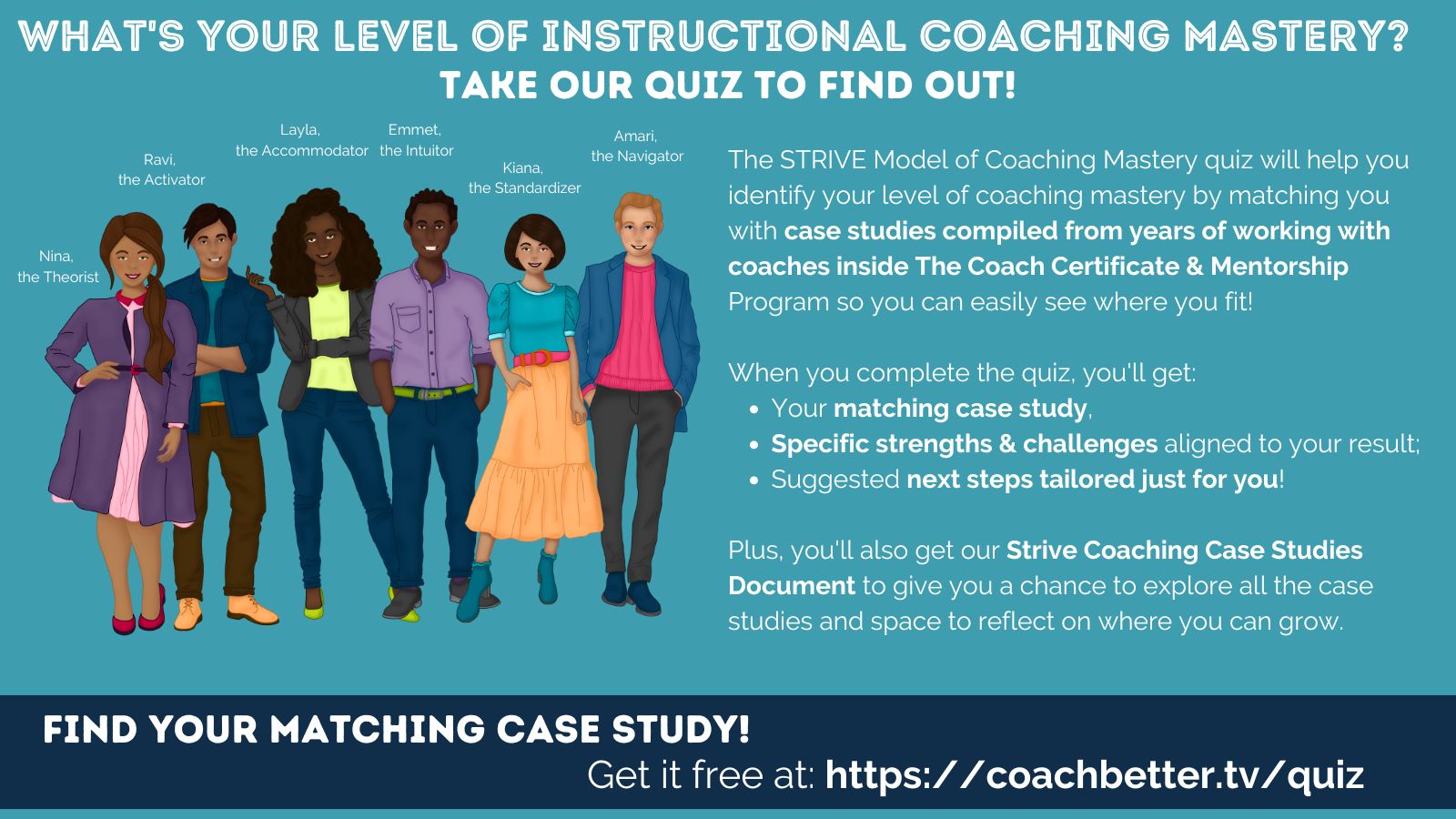 The STRIVE Model of Coaching Mastery quiz will help you identify your level of coaching mastery by matching you with case studies compiled from years of working with coaches inside The Coach Certificate & Mentorship Program so you can easily see where you fit!
When you complete the quiz, you'll get:
Your matching case study,
Specific strengths & challenges aligned to your result;
Suggested next steps for each stage;
Plus the Case Study Document includes:
Case studies leveled by coaching mastery;
A framework to identify essential stages of professional growth & key areas to focus on in your professional learning;
Alignment with the THRIVE Model for a Successful Coaching Culture;
Space for you to reflect & prioritize so you can take action immediately!
You'll go straight to the Quiz, and get the Case Study Document via email.
---
5 Ways to Demonstrating Leadership at Any Level in Education
(There are many more ways, these are just 5 that can apply to almost any educator in schools today):
1: Advocacy:
Being an advocate for something you believe in, and developing that advocacy in a way that leads to positive change in your school. This could be anything from:
a specific curriculum or teaching strategy,
certain student learning opportunities,
Professional learning opportunities for teachers
Engaging the parent community in adult learning
Essentially, whatever you think will better support your community stakeholders. If you can be the voice of this opportunity and help others see the value, this is an essential leadership skill.
2: Actively volunteering:
This came through loud and clear in the Women Who Lead interviews: actively volunteering for work that supports the schools goals, things like committees, accreditation, site visits, interviewing panels
Whenever you have your chance to put your hand up, and be willing to be part of the bigger picture of school development, you're demonstrating your willingness to lead.
3: Sharing & Presenting:
Whenever you have the opportunity to share your thinking with a wider audience, you're being a leader. This could be:
presenting within & beyond your school,
wiring articles,
having a blog or social media space that you can point to that demonstrates your perspective & growth
Taking the time to share your learning, and to do so in a professional and thoughtful way that demonstrates growth over time helps you build your thought leadership – and provides a very handy reference to your own professional growth and work ethic!
4: Team Organizing:
Providing informal leadership among your peers by contributing to the smooth functioning of common planning time, doing things like:
offering to work on revising or developing units independently or with colleagues,
working with a coach to develop new units,
collaborating across subject areas for interdisciplinary units, across grade level to ensure vertical alignment
Anytime you're supporting your team to work more effectively together, even in very small ways, you're developing relational leadership skills.
5: The next level of clubs, activities & sports
This might seem obvious, because most schools require teachers to lead an activity or coach a sport, but this is a great way to start developing your leadership skills. In many cases, leading an activity or coaching a sport requires you to collaborate with other teachers or adults in the community. When you start going beyond hosting an activity in your classroom and reaching out more broadly within the community, this is another great way to develop your leadership skills.
What's your next step?
If you're recognizing the work you do in any of those options, you're already building your leadership skills. The next step is to start recognizing and owning that leadership so you can continue to grow. You can do that with us, in the Women Who Lead Global Cohort! More details about that below and in the workshop!
Watch the Video
---
Continue Your Learning!
Are you ready to embrace your leadership as a coaching?
If you're ready to dig deeper into being more intentional in your coaching practice – or if you're new to instructional coaching and you're curious about getting started, join us for one of our courses for coaches!
To learn more about these options, I have two FREE workshops to share with you today.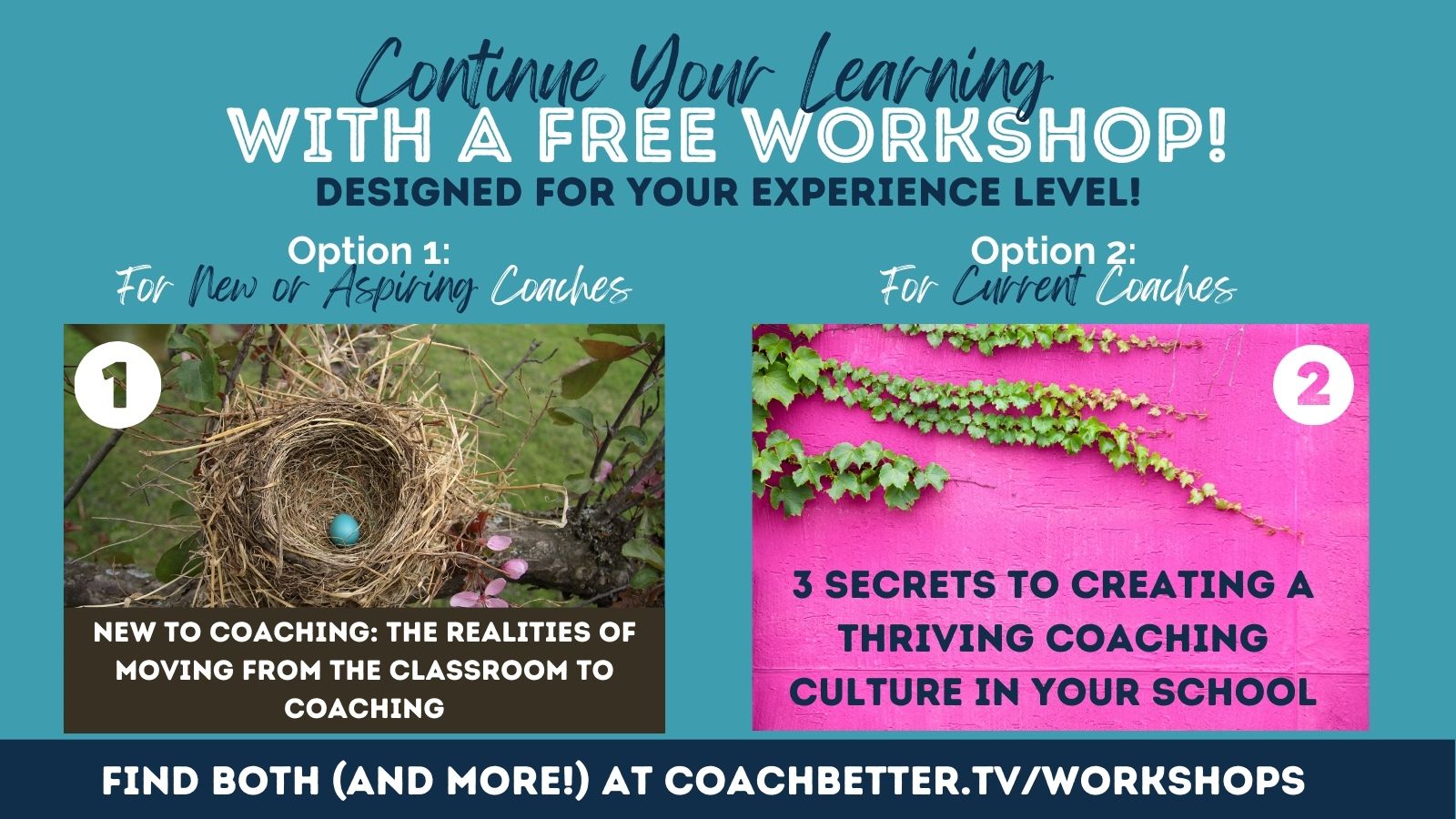 For New or Aspiring Coaches
If you're just getting started as a coach, and you want to be successful in your early years, watch our New to Coaching Workshop, which highlights the key mindset and skill set shifts you'll need when moving from the classroom to a coaching role. The workshop will also tell you all about our brand new course, Getting Started as a Coach. This course is specifically designed for classroom teachers that are moving into a coaching role so you're prepared for the transition. It's focused on exactly the skillset & mindset shifts you need to so you can be successful in your first years as an instructional coach.
For Experienced Coaches
If you're already a coach & you want to think about being more intentional & strategic in your practice, watch our workshop on the Thrive Model for Coaching Success which will help you evaluate your program and your practice to see where you may have room to grow. You'll walk away with a clear picture of exactly what you need to focus on to build a thriving coaching culture – and help you decide if our year-long mentorship and certification program, The Coach, is right for you, right now. This program is designed for current coaches who are focused on building a coaching culture through intentional and strategic coaching work at all levels – with teachers and school leaders.
You can find both workshops on our coachbetter website at coachbetter.tv/workshops
Wherever you are in your coaching journey, we can support you!
For All Coaches
Connect with us!