We are all working towards building a culture of coaching in our schools.
As instructional coaches, we want our teachers to understand the value and purpose of coaching so that we can have meaningful coaching conversations with all of our teachers.
Developing a coaching culture is a huge part of our role, and it takes time and effort to make it happen.
Here are five strategies to get you started:
1. Have a Coaching Framework
Because the language of coaching can be a little vague, and the phrase "coach" or "coaching" usually brings other connotations to mind for most adults (often sports coaching, for example), it's critical to have a structure or framework for the elements of coaching within your school. You could work towards implementing a specific style of coaching, like Cognitive Coaching, or you could simply use a specific structure to every coaching conversation that is consistent across instructional coaching disciplines. Using a common language and process for coaching conversations helps ensure consistency between coaches and teachers. This consistency helps teachers have a common understanding of what coaching is (and what it isn't) because all of their interactions with coaches will follow the same structure and protocol.
In our #coachbetter podcasts, we noticed that when schools have implemented a consistent coaching framework across all instructional coaching disciplines (from technology, to literacy, to math), teachers are more confident about the value and purpose of the coaching role. The consistency in those conversations helps them understand the process, and enables them to be vulnerable in coaching conversations because they recognize the focus of the work they do with coaches.
For example, in our #coachbetter conversation (Episode 39), Niki Dinsdale, University Advisor, at United World College Southeast Asia in Singapore describes their well-established coaching culture:
"There's a system of professional learning, each year we set ourselves goals of what we want to achieve and how we want to achieve it. They can be quite fundamental (like shifting culture) and and go beyond the individual school, and then I work with the coach to help make that happen. Having a long term relationship with my coach helps grow with these goals over time. This has really enabled me to grow personally and professionally. My digital literacy coach is someone I can go to with a kernel of an idea and she can help me move it forward and make it a reality."
2. Ensure Clarity of the Coaching Role
Opening up to a coaching conversation requires teachers to be vulnerable, to express their insecurities and challenges. Therefore it's critical that all teachers understand that the coaching role is non-evaluative, and that coaches are walking the path with their teachers, focused on helping individual teachers reach their professional goals. It may seem like a simple thing, perhaps something that coaches only need to say once a year, but in reality, it's worth repeating, and demonstrating time and time again.
As coaches, it's important for us to remember that classroom teachers may feel pressure to be the experts in their domain and in their classroom. Often times, classroom teachers can be isolated within their own individual classroom, grade level or department. Therefore asking them to share their challenges with someone outside their immediate circle – without fully understanding the purpose of that role – can be a barrier to success.
It's also important to recognize that for many teachers, classroom observation goes hand-in-hand with evaluation. If another person is in their classroom observing, it's often part of the annual review process. So, again, we're asking them to let us in to a space that may have traditionally been reserved for just them or as part of an evaluatory process.
In order to help teachers understand that coaching is about supporting teachers in reaching their professional goals, we can:
State explicitly what our role is at the beginning of every meeting. It doesn't have to take a long time, but re-stating the purpose of the coaching role, especially in small team or individual meeting, is a great reminder for teachers.
Demonstrate through our actions that we are not evaluating teachers. Choosing language carefully (by not putting positive or negative value on teacher actions) is an important part of demonstrating the non-evaluative nature of the role.
Focus on teacher goals and student learning, rather than our goals for the teacher or the school. We can use questions to guide our conversations, and be careful not to put our perspective first in those conversations.
In our #coachbetter conversation (Episode 36) with Merilyn Winslade, DP and MYP Chemistry teacher at NIST International School, Thailand, she describes how coaches can support her needs in the classroom:
"Appear more in my classroom, not just to observe, but to get in there and get more hands on to understand the problems that she has with students in the context of science education. I would like them to be able to see first hand the kinds of things I'm trying to achieve in the class, so they might have ideas or questions I wouldn't have thought of to ask. I don't know what I don't know. Being able to see things from a completely different perspective than me."
---
What's YOUR level of coaching mastery?
All coaches go through various stages of coaching mastery. Once you identify where you're at, you can begin to build the skills needed to move to the next stage.
This quiz is based on real-life case studies compiled from years of working with coaches inside The Coach Certificate & Mentorship Program!
When you receive your results, you'll also get your matching case study from the STRIVE Case Studies to see where you fit in the stages of coaching mastery.
Ready to tackle your challenges and move on to the next level in YOUR coaching practice?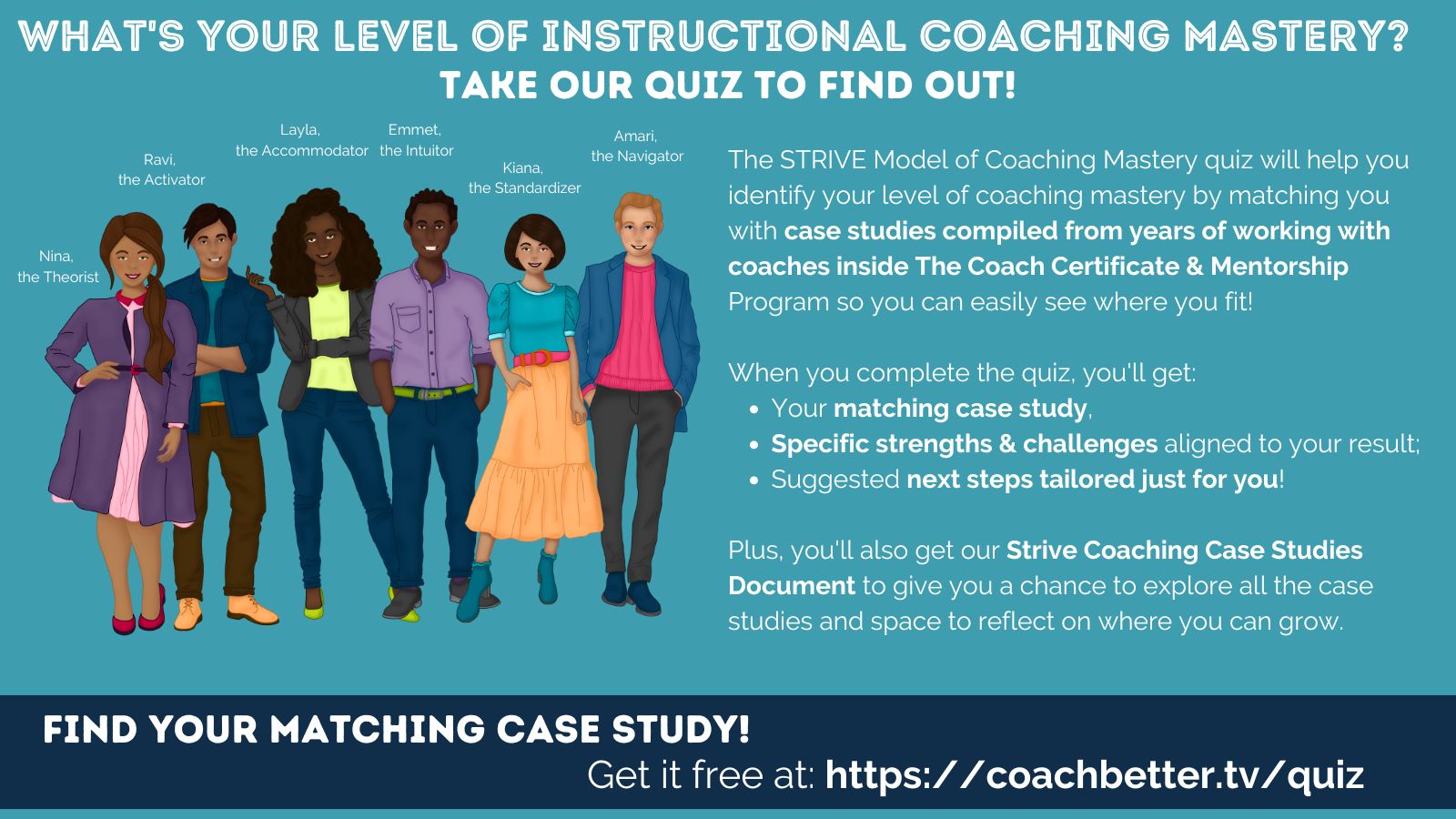 The STRIVE Model of Coaching Mastery quiz will help you identify your level of coaching mastery by matching you with case studies compiled from years of working with coaches inside The Coach Certificate & Mentorship Program so you can easily see where you fit!
When you complete the quiz, you'll get:
Your matching case study,
Specific strengths & challenges aligned to your result;
Suggested next steps for each stage;
Plus the Case Study Document includes:
Case studies leveled by coaching mastery;
A framework to identify essential stages of professional growth & key areas to focus on in your professional learning;
Alignment with the THRIVE Model for a Successful Coaching Culture;
Space for you to reflect & prioritize so you can take action immediately!
You'll go straight to the Quiz, and get the Case Study Document via email.
---
3. Build from a Foundation of Trust
In all of our #coachbetter podcast conversations, school leaders, teachers, counselors and librarians (along with coaches) highlight the importance of starting with relationships. It's that foundation of trust that encourages risk taking by helping teachers feel safe. In all of our actions we need to provide an environment that allows teachers to be vulnerable.
This works best when you have a school culture of trust and risk taking, but even if you're working in a more traditional school environment, you can become a "lone island of trust" that Tico Oms, Middle School Dean of Students at International School Bangkok in Thailand, describes in his #coachbetter conversation (Episode 18):
"If the overall culture isn't great, the coach has to built it themselves, they have to be an "island of trust". To build that island you have to show that you're competent, you're worth listening to, you have rapport and relationship with your colleagues, and you have integrity, so you're safe to work with."
4. Support Sharing
When coaching is new and you're just working to build that culture, empowering teachers to share their positive experiences with each other is a great way to help even the more reluctant teachers see the value of working with a coach. Hearing from a trusted colleague that working with a coach was worth their time is often more valuable than hearing what a coach can offer directly from the coach.
Supporting teacher sharing is another great way to:
recognize the great teaching and learning that is happening in various classrooms – that often may not be seen by those outside the grade level or subject area.
empower teachers to feel confident in the work their doing, which often leads to trying new things and taking more risks.
promote a growth mindset amongst staff.
demonstrate how teachers are working towards meeting their own, or school-wide, goals, to see the many different ways that it's possible to achieve those.
5. Focus on the Learning (Not the Latest Tech)
One struggle that can be particularly challenging for technology coaches is the perception that you're all about the tools. It can be easy to slide into a consulting role, to stay focused on the new apps that teachers can use to support student learning. Often when this happens, coaches can become more focused on where they think teachers can go, rather than what teachers might be ready for at this moment in time.
In our #coachbetter conversation with Nici Foote, Grade 3 Teacher at Western Academy of Beijing in China, she talks about the challenges she faces with coaching:
"Challenges arise when coaches put roadblocks in place based on their own agenda and perception of what the teacher should be doing. Teachers need the confidence to start to wonder themselves about what they could be doing. It's critical to build trust, a safe space, tuning into what their fears are, notice little things that might drive them forward and what they're passionate about."
We can avoid this type of roadblock by
being visible in whole school and small team meetings,
asking questions about teaching and learning with genuine inquiry, and
meeting teachers where they're at rather than where you want them to be.
Watch the Video
Final Thoughts
Building a coaching culture takes time, and it works best when you're in a school environment that recognizes that everyone is a learner – but that doesn't mean you can start the process on your own.
Hopefully these five strategies have given you some ideas to get started! We would love to hear from you? What strategy have you tried? How did it work for you? What else are you doing to build a coaching culture in your school?
---
Continue Your Learning!
Are you ready to build a culture of coaching in your school?
If you're ready to dig deeper into being more intentional in your coaching practice – or if you're new to instructional coaching and you're curious about getting started, join us for one of our courses for coaches!
To learn more about these options, I have two FREE workshops to share with you today.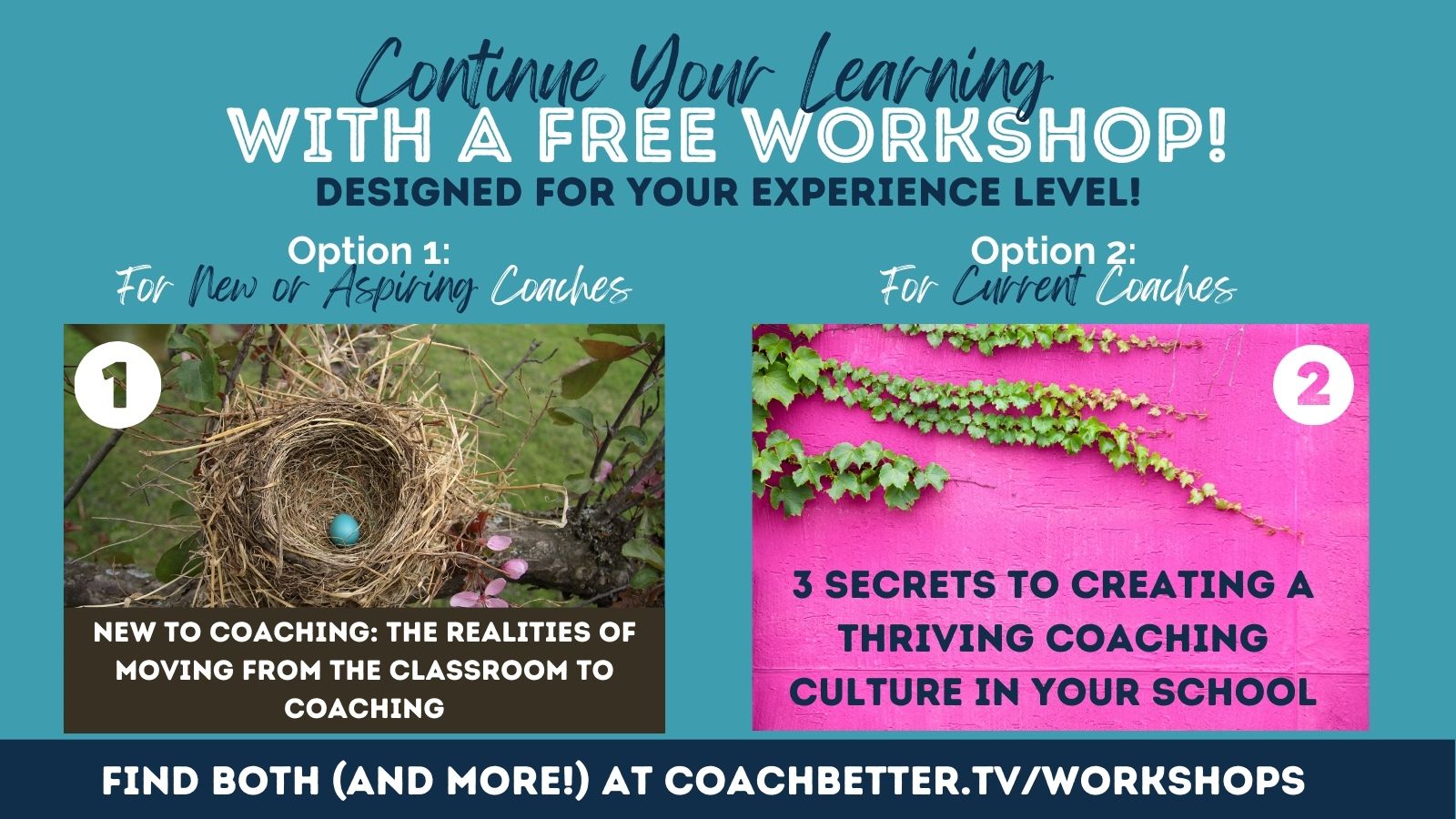 For New or Aspiring Coaches
If you're just getting started as a coach, and you want to be successful in your early years, watch our New to Coaching Workshop, which highlights the key mindset and skill set shifts you'll need when moving from the classroom to a coaching role. The workshop will also tell you all about our brand new course, Getting Started as a Coach. This course is specifically designed for classroom teachers that are moving into a coaching role so you're prepared for the transition. It's focused on exactly the skillset & mindset shifts you need to so you can be successful in your first years as an instructional coach.
For Experienced Coaches
If you're already a coach & you want to think about being more intentional & strategic in your practice, watch our workshop on the Thrive Model for Coaching Success which will help you evaluate your program and your practice to see where you may have room to grow. You'll walk away with a clear picture of exactly what you need to focus on to build a thriving coaching culture – and help you decide if our year-long mentorship and certification program, The Coach, is right for you, right now. This program is designed for current coaches who are focused on building a coaching culture through intentional and strategic coaching work at all levels – with teachers and school leaders.
You can find both workshops on our coachbetter website at coachbetter.tv/workshops
Wherever you are in your coaching journey, we can support you!
For All Coaches
Connect with us!