In this #coachbetter panel episode featuring the Phoenixville Area School District (PA) Instructional Coaches, Kim talks with the team she has been working with for the last two years in The Coach Certificate and Mentorship Program
Ashely, Becca, Tracey, Kelly, and their District Assistant Superintendent Jess, and Kim talk about the evolution of their coaching program: from vision to building the team, to the addition of more coaches, how the program has been refined over time, and where the future may take them. They also talk about the importance of investing in professional growth for coaches to ensure the success of a coaching program, and how working with Kim in The Coach has helped them grow professionally and directly impact their work as coaches.
Subscribe to #coachbetter via your favorite Podcast Player!
Featured Guests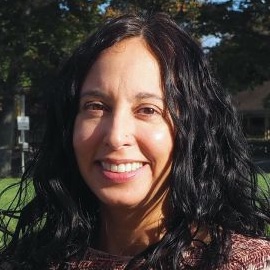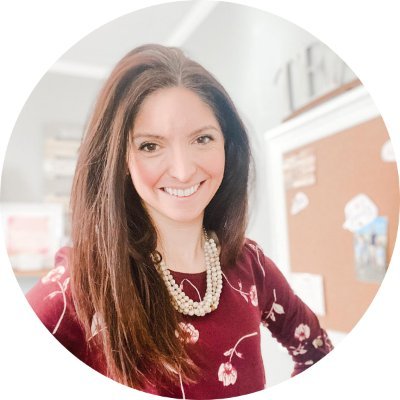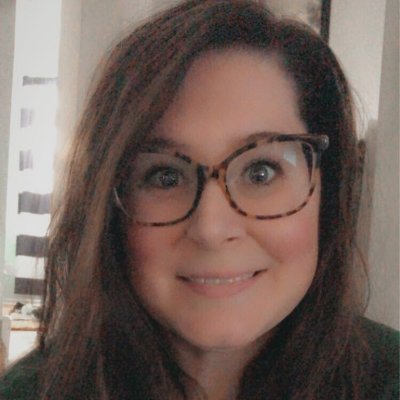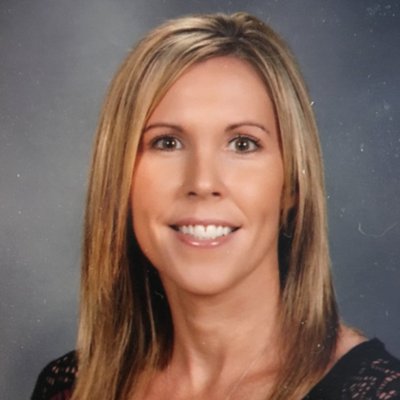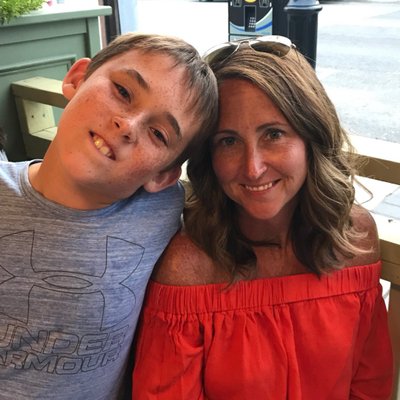 Bonus! Watch the Spotlight Version on YouTube!
SHOW NOTES
Tracey: 6th grade science teacher, loved science, last year first year as a coach
Jess: started teaching as a second career, 20+ years ago, most important experiences I had have involved a coach
Becca: started as a 1st grade teacher, 9 years ago, various leadership roles, learned about coaching in my grad program, last year was my first year as a coach
Kelly: started as a 1st grade teacher in 2001, had to seek out coaching when school structure changed, focused on teaching math
Ashley: started in 1st grade, Principal is the reason I continued to grow in my profession, second masters degree introduced me to coaching, became a building coach, then moved to K12 instructional coach in Phoenixville
Your vision for coaching / how it got started (Jess & Ashley)
Jess: Came to Phoenixville almost 6 years ago, as a curriculum supervisor, only C&I administrator in the district. Spent time talking about what coaching looked like previously, what worked, and what didn't. Talked about "what if we could have this…" one of the most important ideas to me was having it be a district-based program. We wanted to have our instructional coaches to have a district wide impact, have the opportunity for some specialities, and for us to be on the same page in terms of what was important to the district and what was important for our coaching work in schools and to administrators. Coaching was a hard sell at first, because it had happened before and there were pitfalls and challenges. Started with only 2 coaches for a 350 teacher district
Ashely: Jess and admin and coaches were aligned in our vision. Voluntary. If we want teachers to trust us and build relationship with us, they had to be reaching out to us. That was the number 1 thing that made our program successful. We started by building relationships, offered to push in and do lessons. Helped the teachers around the district get to know us. Laying the framework of us as a coaching team and what are beliefs. Went around to faculty meetings to let them know what coaching is and is not. Having an administrative perspective that was aligned with ours, and focused on building relationships. The only way to know the teachers' needs is to ask them. Create a needs assessment of where the teachers want support.
How you built the team (Jess & Ashley)
It was always part of our conversations to keep adding to the coaching team. The needs of districts have gotten greater, especially over the last few years. Having a coaching for every 30 teachers would be ideal. Keep growing as budget allows. Adding two coaches, came out of our group of teachers (Educational Task Force). This developed into K12 instructional coach & K5 math coach positions – because teachers asked for them. Talked about future areas we could see coaching developing. Having our district coaching program allows us to specialize and have specific needs that teachers ask for the most.
How the program and coaching roles have evolved over time (Becca)
Ashley: Two years ago, 2 coaches, K12 instructional coaches (Natalie & Ashley), Natalie was moving on, spoke to Becca about potentially moving into the opening.
Becca: As we grew in numbers, our team has evolved. From where we started last year, to where we are now is a very different place. We have really gelled as a team, seeing all of our strengths and how we can build off each other. Taking into account what teachers are saying based on needs assessment. Taking what we're hearing from teachers & administrators and using that to guide our work and being really intentional.
Our newsletter has gone from putting as many clickable resources to teachers as possible, ot narrowing it down to specific resources to make it more digestible. Looking at BiteSize PDs to make it accessible. What can we do better to support our teachers?
Jess: One of the key ways the roles have evolved has been around the work that the coaching team has done with the admin team. There is so much power in that work. More points of contact, not just individually but as a whole team. Providing professional learning opportunities to our administrators is so powerful in helping us decide what's important to us, and move together in the same direction at the same time.
Becca: Working with new teachers, who get automatically partnered up with a coach in a PLC to help bring them into the district and start them off for the year.
Ashley: In building our team, we needed to think about who would be right to complement the current members. Tracey had secondary experience. Knowing our needs in Math, knowing Kelly's expertise we knew she was the right person to join the team. It's such a crucial thing when building a team, to know their strengths and personalities. Having that range of personality is really important.
Every coach has a strength that compliments each other.
---
---
Get A FREE WEEK of The Coach Certificate and Mentorship Program
Have you been considering joining The Coach Certificate and Mentorship Program this year, but you're not sure what you're going to get?
Would you like to see what learning will be like before you jump in?
It's a big commitment to join an academic year long program, and we want to make sure it's the right choice for you right now.
So this year, we're sharing a sample week of The Coach for FREE for a limited time!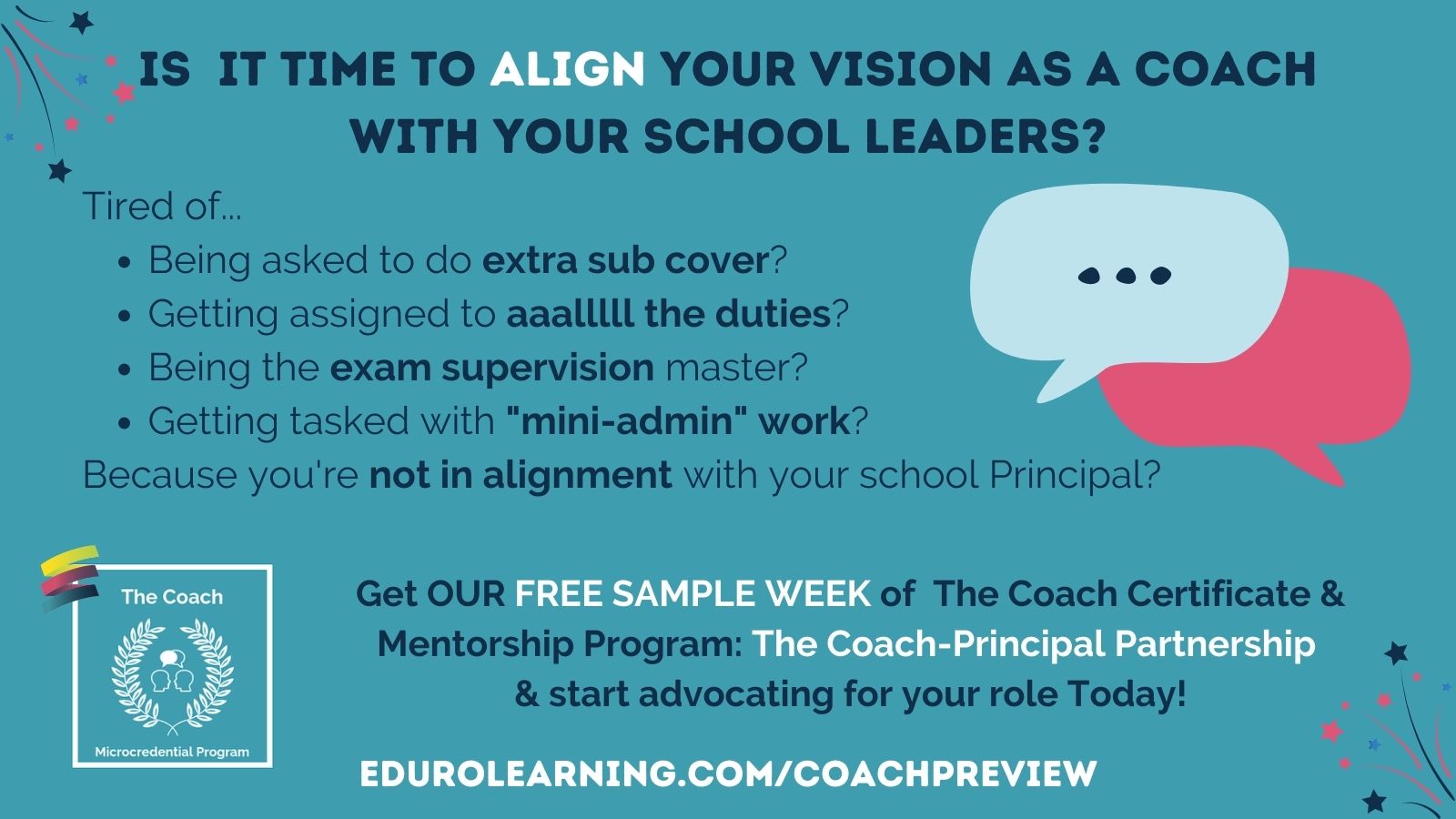 This sample week is one of the "hot topics" that come up in conversations inside The Coach: The Coach-Principal Partnership.
Coaching is such a nebulous word, and even the descriptions we use to discuss why coaching is valuable and how it works can be so broad that we think we're talking about the same thing…
But we're not.
This can lead to misunderstandings and misalignment about your role with your school leader. That's how you wind up doing tons of:
Sub cover
Extra duties
Exam supervision,
mini-admin-type work
Anything BUT ensuring that there is time for actual coaching.
That's why this FREE sample week is all about The Coach-Principal Partnership.
You'll learn how to have a concrete, detailed and actionable conversation with your principal to clearly define your role and expectations so you can focus on actually coaching – and get the support you need to do it well!
Ready to start? Get it at https://edurolearning.com/coachpr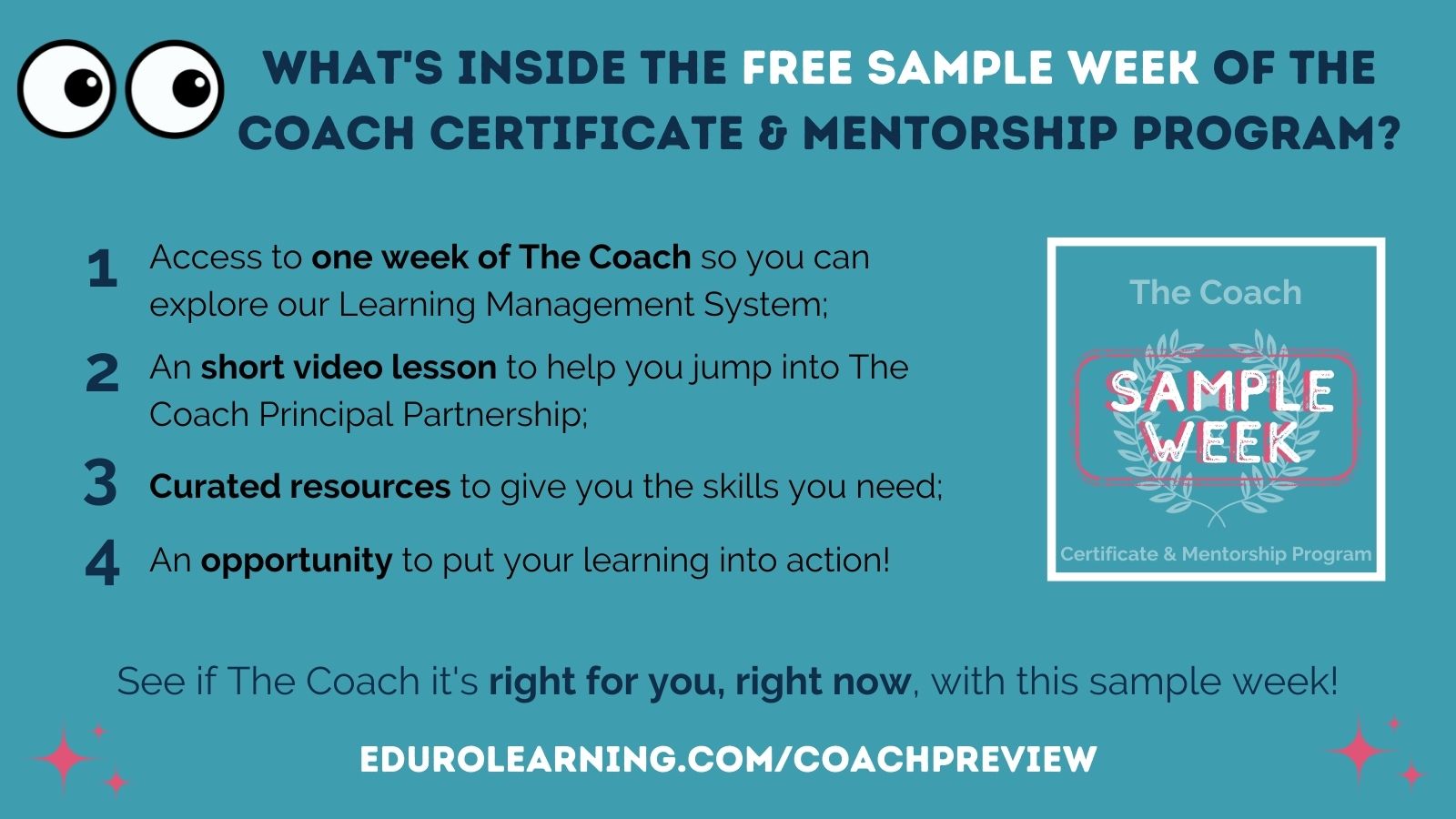 ---
---
Show Notes (continued)
What you learned / what you might do differently / what you would recommend for others (Kelly)
Kelly: walked into an established coaching program. Building relationships was so important, being present, coaching conversations can happen unintentionally when you're in the right place at the right time. Putting myself out there, not being afraid to be vulnerable, jotting down personal notes about people to continue making personal connections.
Finding clarity, and then conveying that to teachers, so I can be intentional about the initial coaching conversation, sharing a coaching menu.
Really coaching with an equity lens, bringing things back to equity. Everything we do can have an equity lens, through The Coach, was eye opening to me, make sure I keep that in mind.
Intentionality working with admin.
How the program is continuing to develop / what the future looks like (Tracy)
Tracey: Having a district that invests in our professional growth and having instructional leaders who are totally on board, as a foundation, and being able to step into it, I feel very grateful.
All of us are trying to find entry points to coach everyone. ES has BiteSize PD, Secondary getting into faculty meetings, newsletter gets sent out to highlight entry points, podcast, Tech Tip Tuesdays to help increase efficiency.
We love our coaching team, we're all working towards the common goal of student achievement. You all have different roles, but you're all working together.
Kelly: Refined our form for collecting our coaching data.
Our message last year was: if you have teachers in need of working towards a higher level to everyone deserves coaching. Coaching is for everyone.
I seek out coaching from these women right here. We're getting coached within the team.
Jess: How important is true mentoring and professional learning for coaches. Continuing to invest in that impacts our entire district and many many many kids. It was always part of the vision of our coaching program.
How The Coach and working with me has supported you in that process (all)
Ashley: it's been amazing to think back to where it's started and to see the layers adding on as we grew. It all started with the needs assessment that we did with you in The Coach. Having a thought partner to say: "this is what's on my mind" and then just having Kim ask questions to help me refine my thinking and guide my thinking was incredibly impactful. When certain things would come up, I'd bring it up with Kim in my next coaching meeting. Starting with the needs assessment, and then doing BiteSize PD (came out of pandemic learning), evolved into a theme to focus in the teachers, and now that's become doing BiteSize PD in each school. That came about because we were in the coach, and had the opportunity to be intentional.
Becca: Coming into the program, transitioning from being in the classroom to being in a coaching role. I felt like I was super confident in my role as a teacher, but moving into this new role was HARD. Stepping into someone else's role and trying to do what they were doing. It was a hard transition. Having an extra layer of support, for someone to keep nudging me out of the weird funk I got into, not just professionally but also personally. I see myself being much more proactive, and push out of my comfort zone. In the Coach, I found my place, and my voice, as a coach.
Tracey: Last year was my first year in a new role. Started the year at 3am watching YT videos because I felt like I needed to have answers for teachers to have credibility. My role is to listen, especially when it comes to tech, meet them where they are, and then in different ways, inspire & encourage them to take a risk. In the Coach I'm making relevant resources that I can use for our program, it's relevant and personalized. I love meeting with the global cohort & the American cohort. Having a professional community is amazing. On our 1:1 private mentoring calls, I get off and I'm in a vulnerable place that I would never be at alone

Kelly: My second year of coaching, ride that bike and fell of several times. Our work together is about reflection and refinement. That refinement is about being intentional about all aspects of my work, I feel like you've really challenged me in every conversation 1:1. Those have been the most beneficial for me because you really stretch my thinking. In those 1:1 I'm learning through your modeling. Your coaching me and modeling what I could be doing as a coach. I get off a call at 9pm and my brain is thinking all night and it doesn't stop because you really put the learning on me and challenge me to do the thinking and that's exactly what we want our coachees to be doing. The Coach really challenged me to take in what I'm learning through our 1:1 conversations and apply it in my own context
---
---
Level Up Your Coaching with The Coach!
If you are ready to develop your coaching practice over the next academic year, and explore topics like transitioning your work from individuals to teams, please join us for our next cohort of The Coach!
Wherever you are in building a coaching culture in your school, The Coach will give you the strategies, skills and tools you need to make coaching a success and will empower you to confidently apply instructional coaching strategies in any situation – from building a coaching program, to having coaching conversations, to being a leader in your school community. We facilitate only one cohort each academic year so we can offer individualized support for each participant.
Registration for our next global cohort opens once a year – check the website for details!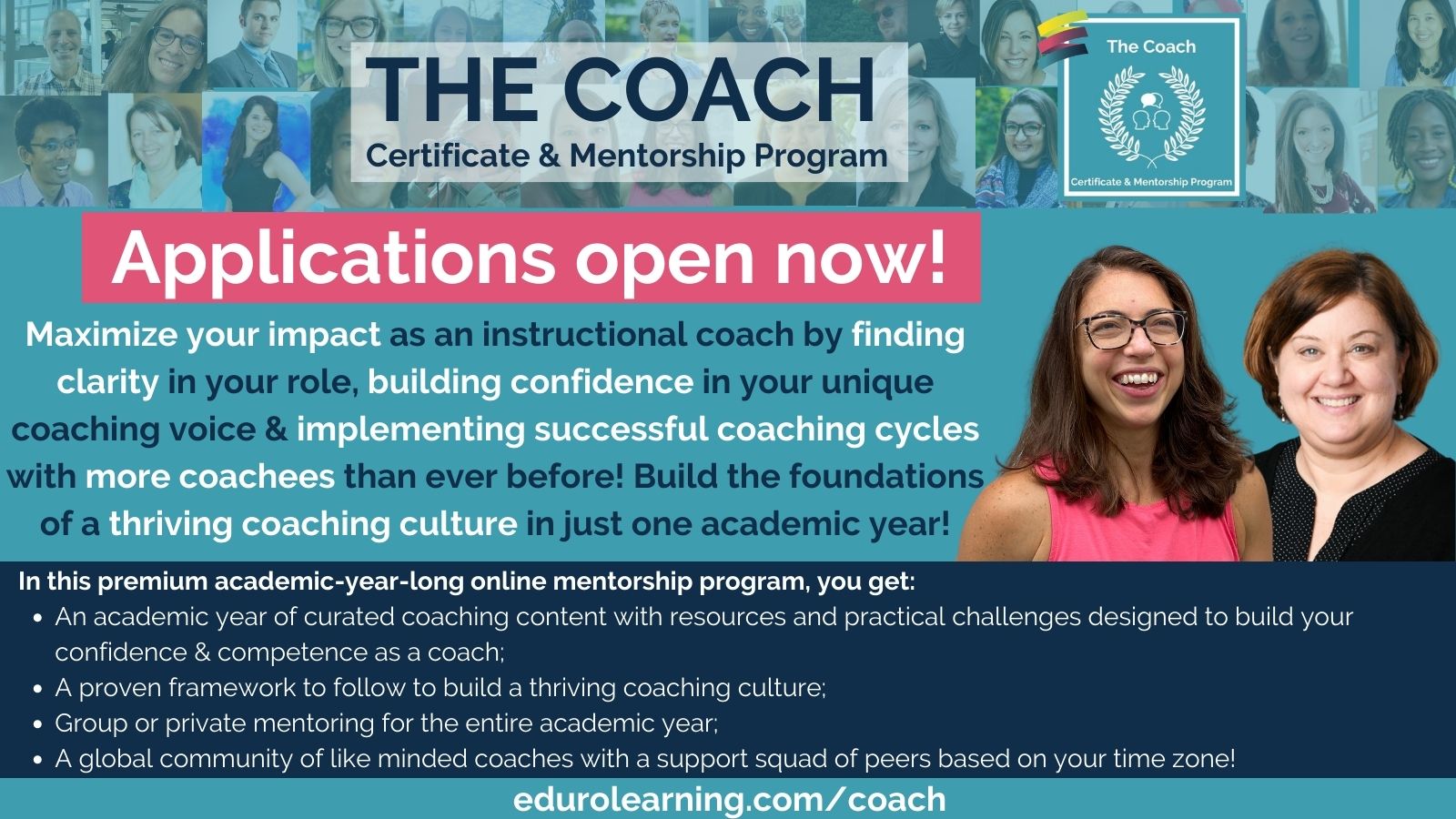 Find out more at: https://edurolearning.com/coach/