In my early years as an educator in the United States, I connected with other teachers in my building or maybe my district on different topics related to our content areas or classroom management, data and assessment, or whatever our schools thought was important to improve student learning. Sometimes I would connect with other teachers based on our desire to try new things in our classroom or share tips and tricks but those usually happened randomly or informally in the teacher's workroom or even the hallway. Looking back, our opportunities to connect in authentic and meaningful ways were limited by time and location.
I was missing a global PLN.
What's a PLN?
PLN stands for Personal Learning Network and it basically means all the people that you learn from and with – in both virtual and face-to-face settings. If you haven't started building your PLN yet, don't worry, we've got a video & blog post coming soon to help you do just that!
But before you get started, you might be curious about why you might want to build a PLN. So in this post, I'm going to share four ways you can harness the power of professional learning networks.
The Power of a PLN
I was first introduced to Professional Learning Networks or PLNs when I joined an online cohort for COETAIL (The Certificate of Educational Technology and Information) during my first year at an international school in China over ten years ago. I was already on Twitter (thanks to Kim) but I wasn't quite ready to engage in Twitterverse. But being involved with COETAIL, I started to see and experience the power of PLNs. And this was not just connecting through a social media platform – it was also the development of a PLN through our online cohort. I was the only COETAIL participant at my school so I came to depend on and grow from connections with other participants for their input and feedback on my work. And then my PLN expanded out beyond my cohort to other educators and experts through Twitter.
Through my COETAIL cohort and through my growing PLN on Twitter, I began getting more ideas and access to resources. I grew more comfortable and confident with sharing my own ideas, recommending resources and problem-solving with others and was not limited by time and location. My PLN became an energizing and impactful force in my professional life.
4 Ways to Harness the Power of a PLN
When I reflect on the power of PLNs today, the overarching characteristic of a truly meaningful professional learning network is the ability to craft it to meet our needs and goals as educators. We can develop PLNs in a variety of ways to harness their power.
1: Consider WHO we want as part of our PLN
Whether through social media or other digital platforms, we can build a PLN by choosing who we are going to interact with by friending or following specific individuals and groups. We can connect with people in our own school or across the world. We can find others who share our curiosity and interest in certain topics and those with expertise to share. As part of COETAIL, we can connect with others who are interested in how we use technology in the classroom effectively and creatively. In my experience, our COETAIL PLN engaged in meaningful ways because we were motivated to learn and grow as educators in new ways of thinking and approaches to learning.
2: Decide WHAT topics we want to learn and share about
We can follow certain hashtags or join specific groups. We can create groups ourselves, host or join a live chat. We can find out more about topics outside education that might inspire us to be more creative and innovative. With COETAIL, I started with a focus on educational technology in the classroom in general, but through that experience I discovered other areas of interests I wanted to explore especially around things like digital storytelling and media literacy and expanded my PLN accordingly.
3: Determine WHEN we want to be involved
And when it's time to take a break or make a shift in what we want out of our PLN. Our interactions and connections can be for short-term goals or continued interests. My PLN has evolved over time as my needs and context have shifted. Over the past ten years, as I've grown professionally and moved into different roles, there have been times when I have made adjustments in my PLNs in who and what are involved.
4: Explore options in HOW we develop and utilize professional learning networks
We tend to focus on using social media, such as Twitter and Facebook, and digital platforms, such as Canvas and Schoology, to build PLNs. But we need to also consider how we can better form effective and meaningful PLNs in our local spaces such as our school, district, or region where we might have opportunities to meet face to face, in the same space. I've been fortunate to have worked in some schools where I was able to have some choice and input on where I want to focus for my professional learning and join with other teachers in pursuing similar goals and interests. Advocating for teacher-led professional learning can result in strong PLNs that impact teaching and learning in powerful and collaborative ways.
Overall, the power of the PLN comes from you!
Professional learning networks benefit us when we take advantage of all the options we have in molding them for what we need in who we connect with, what topics interest us, deciding when we need to make changes, and how we decide to engage virtually and locally.
How will you harness the power of a professional learning network to energize and impact the work you are doing with students?
Watch the Video
Build YOUR Personal Learning Network with COETAIL!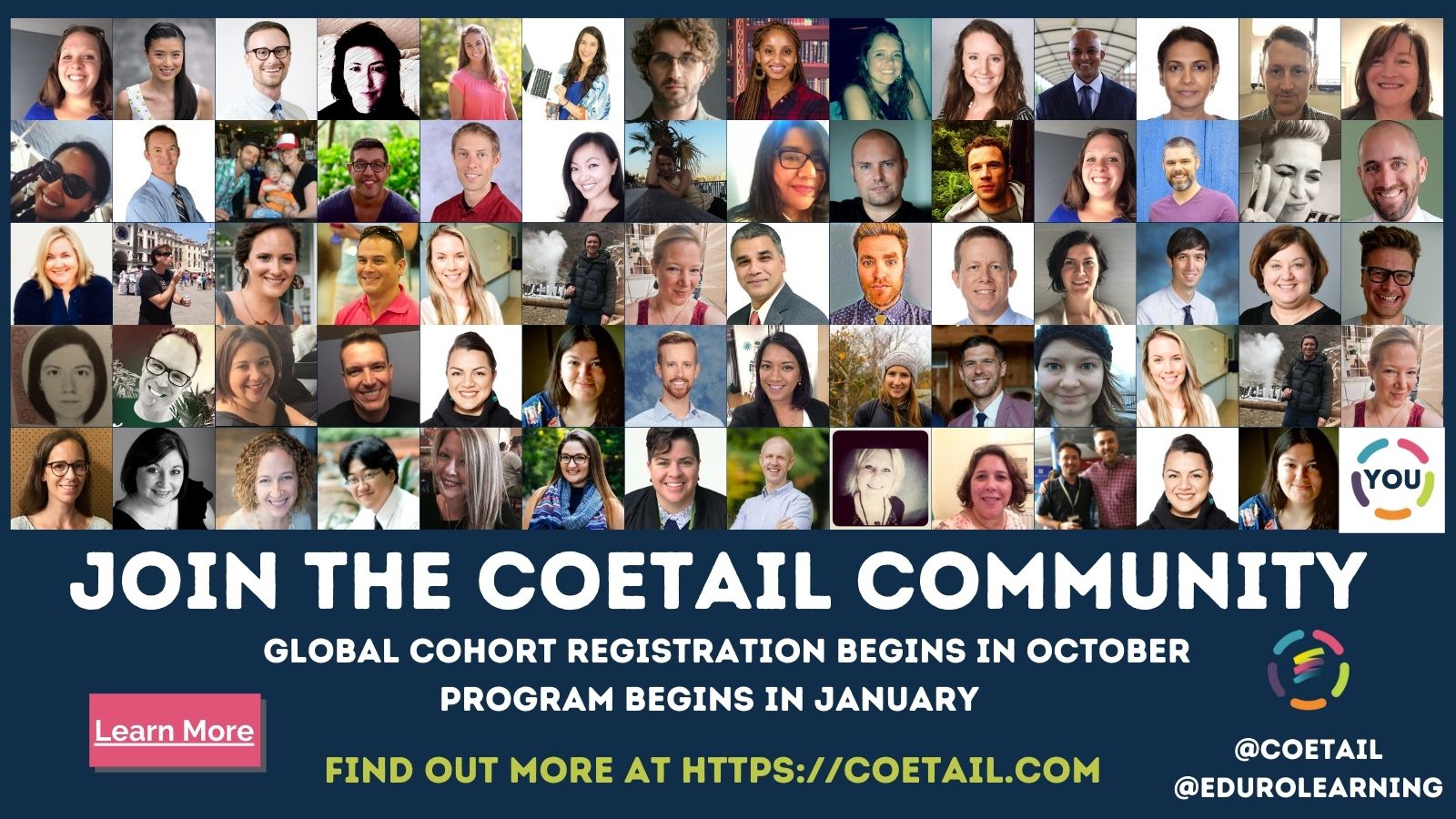 The Certificate of Educational Technology & Information Literacy is a 5-course online certificate program designed for educators ready to embrace innovative, technology-rich learning. COETAIL will empower you to leverage the technology you have to transform your practice in order to positively impact learning for all students. COETAIL embraces a community approach to learning through annual global cohorts that connect you with engaged educators, and supportive facilitators, around the world. Graduates of COETAIL are confident, adaptable, connected educators ready to tackle any new challenge that comes their way!
All educators are welcome: classroom teachers, coaches, specialists, school leaders. The program is customizable for educators in any setting. COETAIL is for educators who are ready to transform their practice through innovative pedagogical practices, and committed to a 1.5 year professional learning experience in a global cohort.
Find out more: https://coetail.com/