In this #coachbetter episode we have a fantastic panel episode featuring Kim's clients who have all made the transition to coaching over the past few years including Rebecca Morgan, Paula Plaza-Ponte, Yariv Cohen, and Sasha Robbins!
Becca, Paula, and Yariv were all in the last cohort of The Coach, and Kim has been working with Sasha as a private mentoring client for several years. Of course, they each have their own unique story for how they came to be coaching, but one of the very interesting aspects of this conversation is actually the similarities in their experience as they moved into a formal (or informal) coaching role.
Subscribe to #coachbetter via your favorite Podcast Player!
Featured Guests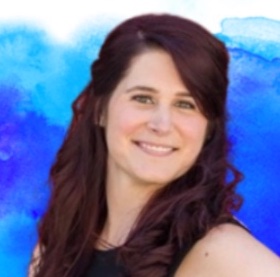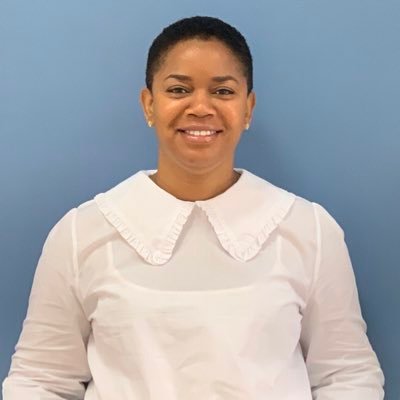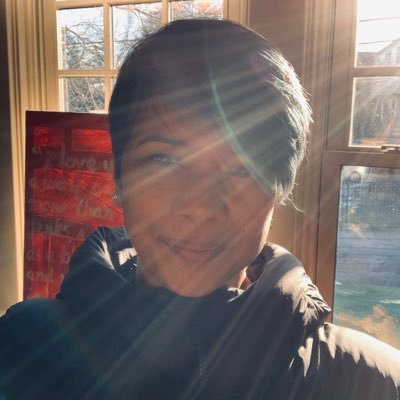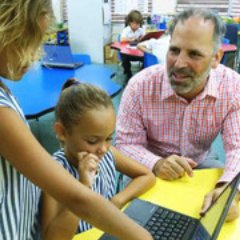 Bonus! Watch the Spotlight Version on YouTube!
Show Notes
Share your education journey
Yariv: NYC teaching fellow. Met my first coach in my first year of teaching, who blew my mind away. CIS, HK
Paula: Teaching is my second career, was in the fitness industry in the beginning, but discovered that I wanted to teach what I love, which is reading and writing. Started in the university classroom, then moved into middle school, first in the Philippines, then SG at UWC SEA, now in the Upper School, figuring out what to do next after moving to the US. Wanted to shift and work with teachers more.
Sasha: Been teaching for a long time, started teaching language & literature at home in Jamaica, taught IB & IGCSE for a few years. Came to Kuwait, and I never heard of an instructional coach before, and as soon as I heard about coaching, I knew I wanted to work with a coach. It was the most pivotal thing that happened to me as a teacher. It gave me a sense of direction, brought me joy and I was able to see my students growing because of the work I did with my coach. Applied for a coaching position in 2018. I live and breathe for coaching because it's not just about working for the teachers, it's about finding a way to create a sense of meaning and purpose together, in partnership. Who I want to be as a coach is who I want to be as a human being. Part of that has been the work I've done with Kim, I believe in having a coach, that's helped me grow.
Becca: Started in Early Childhood. Landed a 1st grade position, got my masters in Curriculum & Instruction. Learned about instructional coaching, but never imagined leaving my classroom. District started a coaching program 3 years ago, but I wasn't ready to make that transition yet. So I got to see the start of the program. Had a few administrators tap me on the shoulder to apply for a coaching position. Now working as a K12 Coach, getting an entire district view.
What surprised you when you first transitioned into the coaching role? What was unexpectedly good and unexpectedly challenging?
Becca: When I left my classroom, I felt super confident in what I was doing. I knew I was a leader, I was working with teachers in essentially a coaching type role. I was replacing another coach, I thought I could just step right into her shoes, and that was not the case. I came into the start of the year not realizing I had to re-brand myself. Instead of them seeing me as a teacher and tech coordinator, I had to mold those relationships again to work with the teachers as a coach. Even though I had those previous relationships, some of the teachers had a different view of me because of the location of my office. Having conversations with the teachers telling them "i'm on your side, I'm in the boat with you" and having them say "we're in the submarine". That was really shocking to think through. That was not something I thought I would hear from the teachers. All of the work in The Coach accelerated my process of growth from losing my confidence at the beginning of the year to being much more confident now at the end of the year.
Sasha: Because you're in this position, sometimes your colleagues think that you have some evaluatory power. It's important to think about how you're going to re-calibrate those relationships that existed. It took me a while to realize. One of the things that has helped me, is to say to teachers "I'm not evaluative in my position". Hear the struggles that they're having with as much empathy and grace as I can. We're in this together. A thing that really surprised me is that not everyone wants to be coached. I couldn't fathom that. I struggle to understand why people don't want to be coached. I've begun to understand that I need to be patient, people are at different places, and what I have to offer as a coach may not be the thing that you need right at this moment. Build relationships with everyone, and work with the people who are ready.
Yariv: When I am working and presenting myself as a leader, I let them know I'm being a risk taker, like one of your students. I don't know if this is going to work, I'm putting myself out there & letting them know how vulnerable we are. We're all trying our best, and we might make mistakes. Just when I feel like there's no hope and I don't know how to get more people to buy in, those opportunities present themselves. It comes from being on teams. My fourth year on the team, I shared my struggle and shared a plan for how it could work, and they bought in. Being a part of that team. All my planning, can't always see what opportunity might arise.
Paula: My school was going through a lot of change, so regardless of where you were, we were all in the submarine. We were building something that was structurally "perfect", but when all these changes happened, I realized that it didn't have to look a certain way, it didn't have to be perfect. If you were in the submarine with the teachers, you had a shared experience. We were all going through the hardship together. The psychological safety of my peers came from going through it together. The only "strategic" thing I did was reach out to other chairs, and anytime anyone reached out to me, I turned everything into a coaching conversation. When we were trying to make a perfect program, when the biggest obstacle came up, I still got to coach. It has everything to do with being on the ground with teachers. When I felt it had to be perfect, it actually silenced me because I was so nervous to get it wrong.
---
What's YOUR level of coaching mastery?
All coaches go through various stages of coaching mastery. Once you identify where you're at, you can begin to build the skills needed to move to the next stage.
This quiz is based on real-life case studies compiled from years of working with coaches inside The Coach Certificate & Mentorship Program!
When you receive your results, you'll also get your matching case study from the STRIVE Case Studies to see where you fit in the stages of coaching mastery.
Ready to tackle your challenges and move on to the next level in YOUR coaching practice?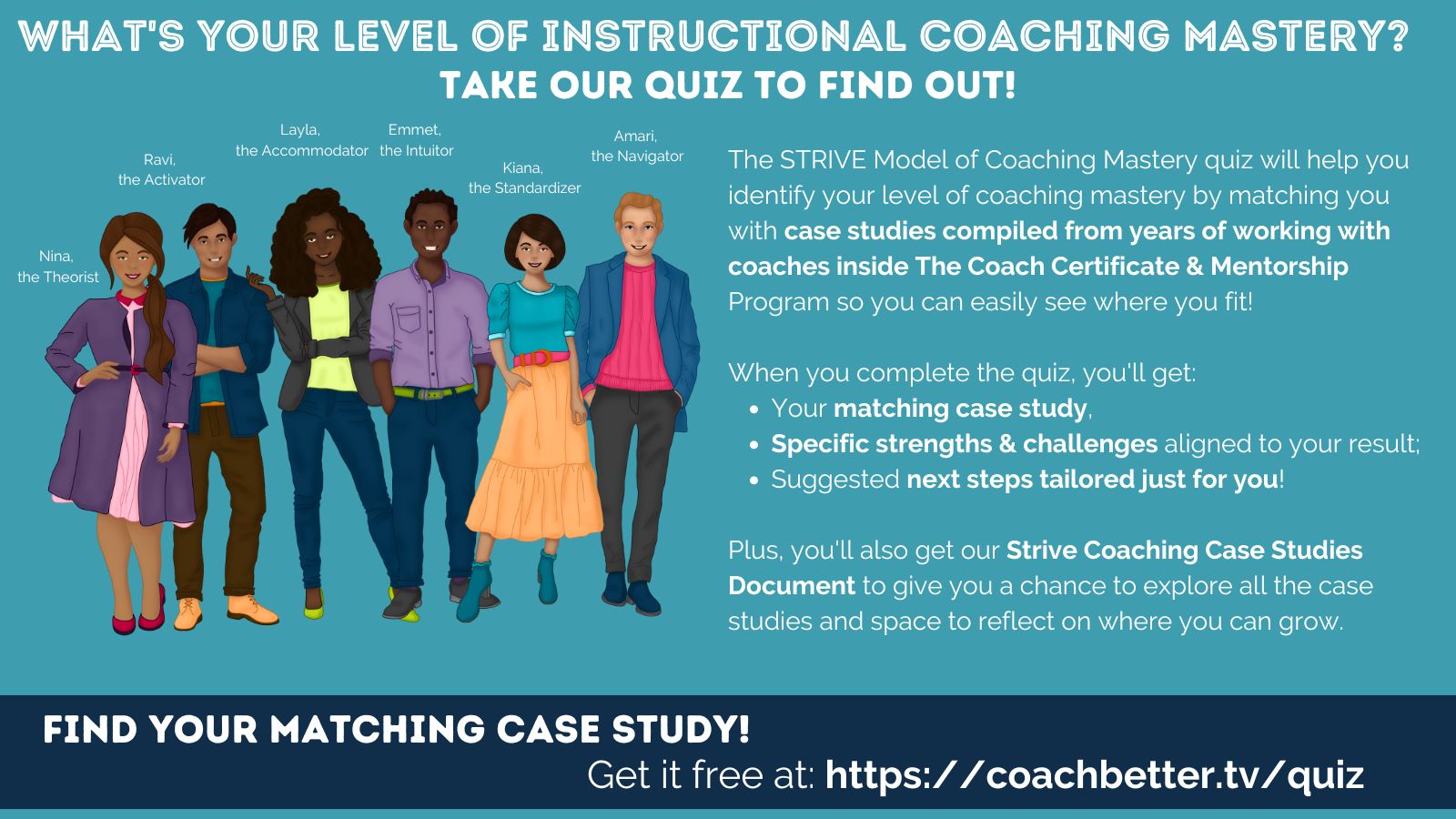 The STRIVE Model of Coaching Mastery quiz will help you identify your level of coaching mastery by matching you with case studies compiled from years of working with coaches inside The Coach Certificate & Mentorship Program so you can easily see where you fit!
When you complete the quiz, you'll get:
Your matching case study,
Specific strengths & challenges aligned to your result;
Suggested next steps for each stage;
Plus the Case Study Document includes:
Case studies leveled by coaching mastery;
A framework to identify essential stages of professional growth & key areas to focus on in your professional learning;
Alignment with the THRIVE Model for a Successful Coaching Culture;
Space for you to reflect & prioritize so you can take action immediately!
You'll go straight to the Quiz, and get the Case Study Document via email.
---
Show Notes continued…
How have your relationships changed – with colleagues or leaders – (or not) since you started in this role?
Sasha: My understanding of my role has evolved over the years, so it has had an impact on my relationships with my school leaders. Now that I'm finding my voice as a coach, and I'm growing into the role, I'm able to really share with leaders what I'm seeing on the ground with teachers. I'm an advocate for teachers, but I have to be able to be honest enough to look at the practices I see around me and to be able to share that. I think it's important as a coach, because I'm interacting with teachers in a way that admin don't work with teachers, I can share in more general terms what I'm seeing. That makes the relationship between myself and the leaders different, because I can share information that will help them in their leadership and the routes that they take in terms of what's best for the staff. Now I accept that I'm a leader. I'm speaking with the coaching knowledge behind me, but I'm still your peer. When I speak to teachers, the relationship has changed, but I'm still your peer and I'm not here to tell you what to do.
Becca: Coming in from working as a teacher with many of the principals as a teacher in our district, there was a switch that had to happen there, not only in my own mind: 'yes, this is a principal, but not a principal I'm working under. Going from a teacher voicing my thoughts to now I'm a coach who also got to coach up with our admin. Coaching principals was a real change. I was that teacher in my classroom that got picked a lot for model lessons, so other teachers had that "oh, she's that teacher, she's the expert", and then getting real with those teachers saying "I'm not the expert, I'm here learning with you. I'm here to get messy and be vulnerable" Transition from having to rebrand myself to them seeing me as an expert to seeing me as a partner alongside them.
Paula: I was walking into a school where I was able to articulate my intention about being a coach, but everyone I had built relationships by the start of this year had left, and the new leaders didn't want coaching. So, then I had to focus on my relationships with other chairs. For the early adopters, I call it gorilla coaching. From there, I didn't force myself of anyone because there was no more pressure, I just worked with the willing. I knew I needed to increase my skill set with teachers who weren't English or Humanities, so coaching math was really freaking me out. The minute I didn't need to be the expert it became easier. It dismantled my fear of that. Maximizing, utilizing leveraging any chance with any connection. I do see myself as a leader with a lot to learn. It helps to believe you're a leader, because it will come out, and build those relationships more and more and dismantling this idea that you have to be an expert allows for the door to open.
Yariv: I started at my school as a math and science teacher and at the time the position was EdTech Specialist. My leadership team saw me as an advisor, a math teacher, a science teacher, and an edtech specialist who wanted to be a coach. My leadership saw me as all of those things. That second year, when I'm out of the classroom, the new teachers just saw me as one of those middle leadership. Third year out of the classroom, majority sees me as "out of the classroom". I wonder if I sound like a jerk when I say "Yeah, I remember teaching science in grade 7!" The relationship is continually changing because there's so many different people. One relationship that I didn't consider being so impactful is with those new teachers, I keep trying to find new ways to support them.
What do you wish you knew about coaching before you started? / What's essential for coaches to consider when moving into the role?
Yariv: Nothing needs to be perfect. I spent months working on an infographic so I could share with teachers very simply and easily what I could help them with, and had so many missed opportunities because I was trying to make it perfect. Just get out there and share and be available.
Paula: Trust the process and trust yourself. The right move will come, the more you pause and be silent. The process can look different depending on who you're with. You're building your toolkit with the person who's sitting in front of you. A moment can lead to a six week coaching conversation. At some point I'm not going to need to explain who I am to support you, it'll just emerge. The minute I let go of the boulder, all these people were there.
Sasha: Patience & resilience. Be patient and wait. You're gonna make a lot of mistakes, you are going to struggle personally, and it's ok. You have to be willing to get back up and try again tomorrow.
Becca: No experience is ok, you don't have to be the expert. You don't need to have taught all of the grades, all of the contents. You're there to learn with the teacher too. It doesn't have to be perfect. Good enough, go!
---
Level Up Your Coaching with The Coach!
If you are ready to dive deep into your coaching practice, to help you #coachbetter and build a thriving coaching culture in your school, please join us for our next cohort of The Coach!
Wherever you are in building a coaching culture in your school, The Coach will give you the strategies, skills and tools you need to make coaching a success and will empower you to confidently apply instructional coaching strategies in any situation – from building a coaching program, to having coaching conversations, to being a leader in your school community. We facilitate only one cohort each academic year so we can offer individualized support for each participant.
Coaches of all levels are welcome: you'll start the program with a self-assessment to determine exactly what the next steps are for you!
Registration for our next global cohort opens once a year – check the website for details!