We want to give you a peek inside our Coach Certificate & Mentorship Program. Coaches taking part in this academic-year-long journey have graciously given us permission to post some of their learning and reflections from the private coursework they are undertaking during this program. Where possible, we have shared the course and the action task to give context for the guest post.
The Coach Final Project
The Final Project is a chance for you to reflect on everything you've learned and/or discovered throughout this Certificate Program. You will create an 8-10 min video sharing on the goal that you set, documenting the process of working towards your goal, reflecting on your achievement and sharing the process/outcome with our learning community. The most important part of your personal project is that it's relevant to you, and you can demonstrate, through documentation and video, the impact your work has had on your school.
Watch Holly's Video
Read Holly's Reflection
I enjoyed putting the video together–it has been awhile since undertaking such a project and it was fun getting creative. Seeing evidence of my learning journey all in one place reaffirmed my learning and growth over the course.
What were some key learning moments for you throughout the program? Which courses impacted your coaching practice the most?
I quite liked the Coaching Models and Coaching Conversations courses–found them full of practical information and new (for me) ideas around conversation strategies, which I enjoyed reflecting on and testing out–both professionally and personally.
Read Holly's Course Engagement Reflection
How did this learning support you in reaching your goal? Did you actually meet your goals? How do you feel about how far you've come?
Well, as my goals were rather loose to begin with, it seemed difficult to not meet them, at least partially. I did learn more about coaching models. Do I have more to learn? Absolutely. I could have spent more time really reading into the different approaches. I still I would have benefitted from seeing more real life examples of each approach, perhaps in a video, or in practice with my mentor. The course supported me, obviously in that it forced a more or less weekly time to actually take the time to learn more, try things out, and write up about it. Without the pressure of course expectations, this wouldn't have happened,
What would you do differently next time? What did you learn? (Reflection)
I would try out another coaching cycle with another colleague, just to see how different personalities impact the whole process. I would spend more time searching out 'live examples' of coaching conversations. I would have tried to get on track earlier. (As I believe most participants did, leaving a lot to the end makes this overwhelming.)
---
What's YOUR level of coaching mastery?
All coaches go through various stages of coaching mastery. Once you identify where you're at, you can begin to build the skills needed to move to the next stage.
This quiz is based on real-life case studies compiled from years of working with coaches inside The Coach Certificate & Mentorship Program!
When you receive your results, you'll also get your matching case study from the STRIVE Case Studies to see where you fit in the stages of coaching mastery.
Ready to tackle your challenges and move on to the next level in YOUR coaching practice?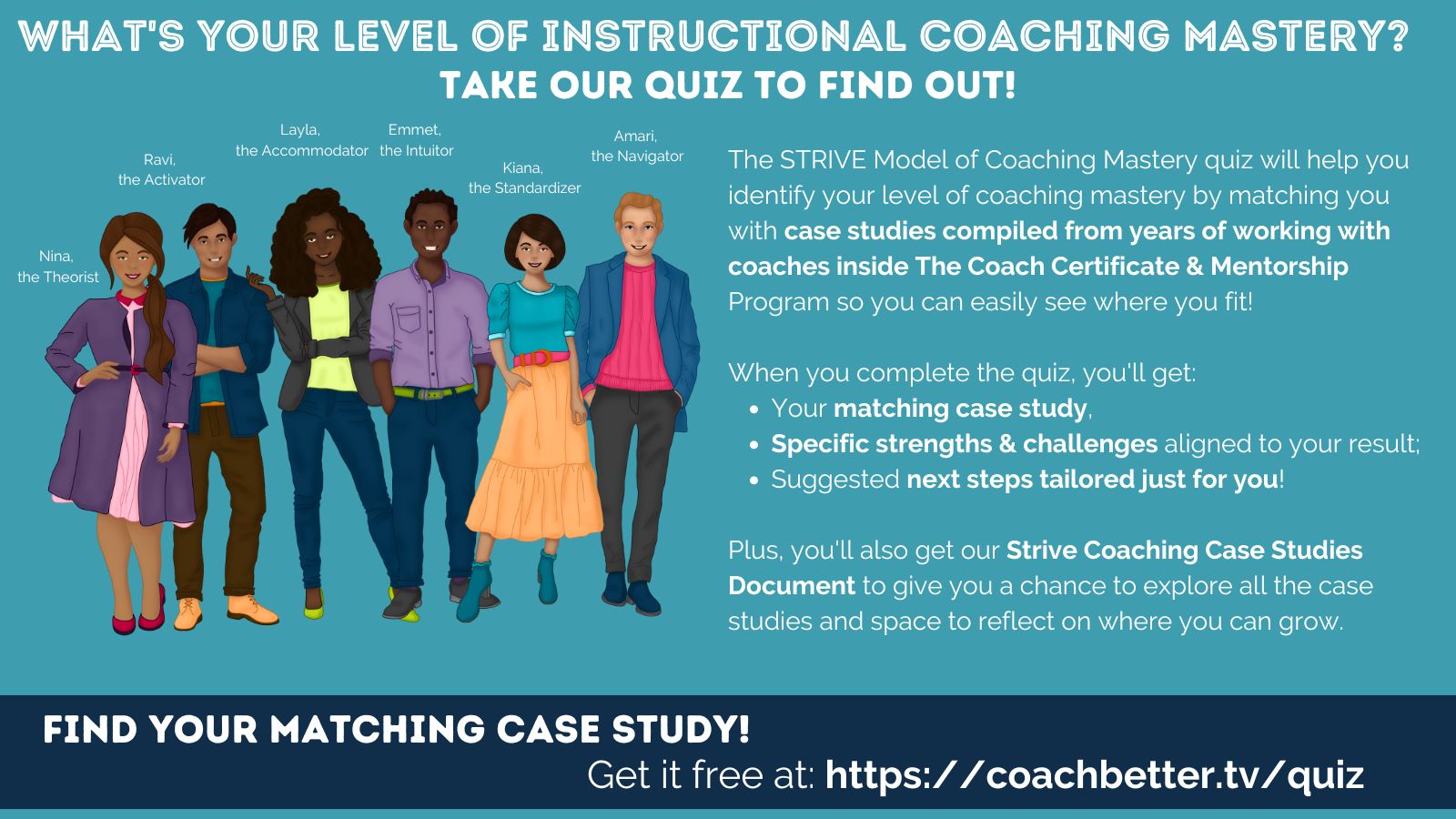 The STRIVE Model of Coaching Mastery quiz will help you identify your level of coaching mastery by matching you with case studies compiled from years of working with coaches inside The Coach Certificate & Mentorship Program so you can easily see where you fit!
When you complete the quiz, you'll get:
Your matching case study,
Specific strengths & challenges aligned to your result;
Suggested next steps for each stage;
Plus the Case Study Document includes:
Case studies leveled by coaching mastery;
A framework to identify essential stages of professional growth & key areas to focus on in your professional learning;
Alignment with the THRIVE Model for a Successful Coaching Culture;
Space for you to reflect & prioritize so you can take action immediately!
You'll go straight to the Quiz, and get the Case Study Document via email.
---
Read more from Holly…
What were your goals for this microcredential and how did you plan to meet those goals?
-learn more about what coaching is and isn't
-feel more confident (move away from imposter syndrome) when working as a coach, in teams, individually
-define the role of coach (more concretely) for myself and others
What would success look like if you met your goals?
Have a much better understanding of (and could begin to try/utilize ) different kinds of coaching (i.e., cognitive, instructional, student centered, etc.) approaches and stances (consultant, expert, coach) with a wider variety of colleagues.
What steps do you think you need to take to reach those goals?
-Research/Watch videos of different kinds of coaching in action.
-Experiment. Be a learner. Be vulnerable.
-Try out a style (student centered coaching seemed most applicable/approachable and understandable for me and my setting) with a colleague.
-Try again with another.
-Spend more time thinking and reflecting about my work.
-Ask for feedback. Apply it.
-Let others know of my project, questions and plans.
-Ask for help, ideas, input, volunteers.
-Learn to say No to things that will not support the goal or my growth.
What challenges did you think you and/or your stakeholders might face and how did you plan to overcome those challenges?
-Working in the same way (our of habit) I always have with colleagues. How to overcome this challenge >>> Part time schedule forced me to work in different ways and try new things with certain teams– this has been great- co-planning our lessons and co-defining goals and learning outcomes for the students has been wonderful. I've had more opportunities to model the use of Tech with teachers and to train TA's during our weekly sessions, as well as ask for their input and feedback as to the success of the tech use in a timely and proactive manner.
-Colleague's expectations of my role. How to overcome this challenge >>> Part time work again changed somewhat how I worked with some colleagues– having less availability for team meetings meant more impromptu (or planned) one on one meetings. People either tried to solve random tech issues themselves, or asked IT– which a lot of the time, they are the best go-to!
-Time (only working 50%) How to overcome this challenge >>>Although I was only physically present at work 50%, I actually ended up having more time for reflecting and planning on my days off… yes, 50% work is never really 50%. On my 'days off', I would work on this course, which, of course, meant I was thinking about my coaching work and how to improve it!
-Motivation (with part time work I specifically wanted to step away from work and focus less on work in lieu of other personal projects– motherhood, well-being and learning German.) How to overcome this challenge >>> Setting specific times to work on the course (Monday afternoons and/or Fridays) helped to keep me on schedule. Feeling like this helped me stay on track, helped keep me motivated.
-Saying No to things I might normally do (or want to do to feel helpful.) How to overcome this challenge >>> This is still an on-going challenge as I work mainly with very young children and often the most support I can be is to lend a helping hand to frazzled teachers who need a bathroom break or support in the boot room or with a child with special needs or outside supervision. Homeroom teachers work at full capacity with very active classes in small spaces, with minimal breaks, short lunches (if they are lucky) and lots of responsibilities. In these stressful moments, sometimes the best thig I can do is offer to take their class outside for them, rather than ask probing questions about what worked in the lesson and thinking ahead to next time.
What did you think the impact would be on your school environment as you worked towards and ideally, achieved your goals?
-Better use of my time and skills would mean more people (teachers and students) would benefit from learning about new tech tools that support teaching and learning.
What are you hoping to see in your school environment as you conduct and conclude the project?
Continued exploration and trialing new ways to work with students and colleagues. More focussed time at team meetings. (Don't meet for the sake of meeting.) Having specific goals that I check in with a few times a year with myself and with teachers. Modeling my own regular reflection and seeking feedback from others means others will do this, too.
What has been the biggest value of The Coach for you?
One of the biggest values of the coach is the opportunity to reflect on my practice. That being said, I am feeling that I spent more time reflecting on coaching than actual coaching, which is a bit frustrating. There is only so much one can say on a handful of experiences.
What's different in the Coach in comparison to other PD that you've received or participated in?
As I mentioned, the huge emphasis on reflection was different. Other PD is a lot more front-loading, or content learning. I think I would have benefited from a few of the action tasks being specifically more related to content recall (I know this may be unpopular) but I feel I am already forgetting some of the new learning.
---
Level Up Your Coaching with The Coach!
If you are ready to develop your coaching practice over the next academic year, and explore topics like transitioning your work from individuals to teams, please join us for our next cohort of The Coach!
Wherever you are in building a coaching culture in your school, The Coach will give you the strategies, skills and tools you need to make coaching a success and will empower you to confidently apply instructional coaching strategies in any situation – from building a coaching program, to having coaching conversations, to being a leader in your school community. We facilitate only one cohort each academic year so we can offer individualized support for each participant.
Registration for our next global cohort opens once a year – check the website for details!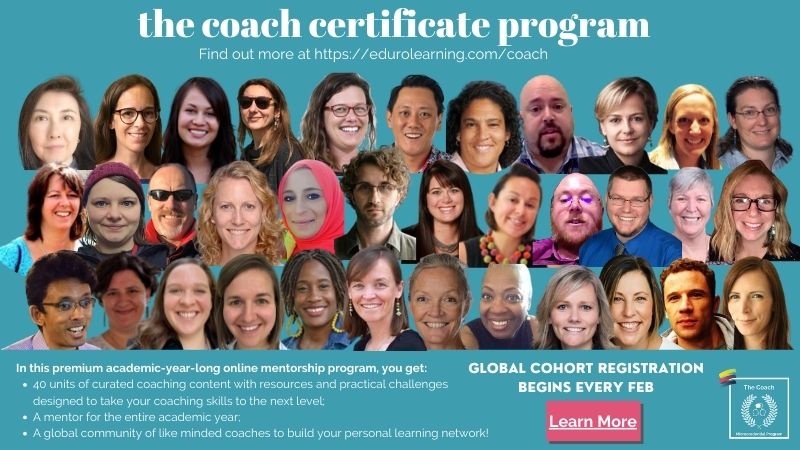 Find out more at: https://edurolearning.com/coach/