We want to give you a peek inside our Coach Certificate & Mentorship Program. Coaches taking part in this academic-year-long journey have graciously given us permission to post some of their learning and reflections from the private coursework they are undertaking during this program. Where possible, we have shared the course and the action task to give context for the guest post.
The Coach Final Project
The Final Project is a chance for you to reflect on everything you've learned and/or discovered throughout this Certificate Program. You will create an 8-10 min video sharing on the goal that you set, documenting the process of working towards your goal, reflecting on your achievement and sharing the process/outcome with our learning community. The most important part of your personal project is that it's relevant to you, and you can demonstrate, through documentation and video, the impact your work has had on your school.
Watch Kate's Video
Read Kate's Reflection
My personal project focused on my goal for the course, completing a formal coaching cycle with a colleague. I began this program in my first year of a new digital learning coaching job and wanted to learn more about the coaching aspects. By choosing this goal, I was able to gain some experience firmly in the coaching stance, rather than the consultant stance, where I'm more comfortable. In creating the final project I had to review my coaching in my final coaching meeting. Reviewing the video allowed me to understand in a different way, where I am in my development and realize where I'd like to go in my development as a coach. Participating in this program has been an invaluable learning experience.
What has been your biggest area of growth in the program?
The biggest area of growth for me has been understanding the difference between consulting and coaching. I have also learned a great deal about the coaching cycle and the structures to support that cycle.
Where do you still have room to grow?
I have many areas I still need to develop, practice, and grow in. I would like to improve by asking 'just the right" coaching questions, navigating between coaching stances during a coaching conversation, managing time and workload as a coach, facilitating team meetings as a coach, facilitating professional learning, and collecting feedback and data on my coaching practice.
What surprises and/or challenges have you had along the way?
I think one of the biggest challenges I have encountered is the lack of clarity and priority for coaching from the leadership team.
In terms of your Personal Project, what has gone well so far?
I think I chose a manageable goal that was just what I needed to get more experience and practice. I was pleasantly surprised that I have enough documentation to demonstrate the coaching cycle.
Looking ahead to completing your Personal Project, what do you have left?
My coachee has requested that I blur out the personal pictures in the background on her desk.
---
What's YOUR level of coaching mastery?
All coaches go through various stages of coaching mastery. Once you identify where you're at, you can begin to build the skills needed to move to the next stage.
This quiz is based on real-life case studies compiled from years of working with coaches inside The Coach Certificate & Mentorship Program!
When you receive your results, you'll also get your matching case study from the STRIVE Case Studies to see where you fit in the stages of coaching mastery.
Ready to tackle your challenges and move on to the next level in YOUR coaching practice?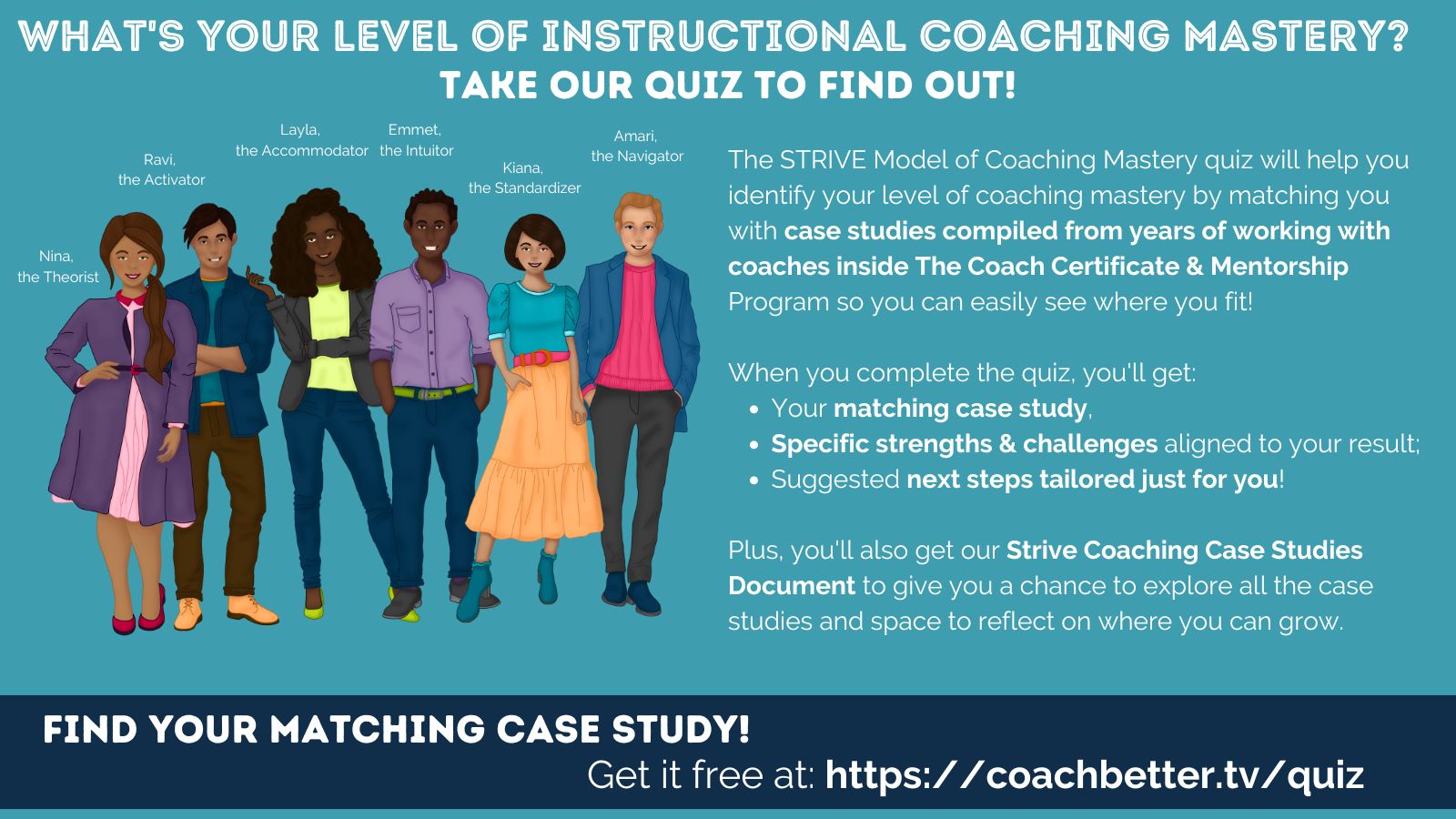 The STRIVE Model of Coaching Mastery quiz will help you identify your level of coaching mastery by matching you with case studies compiled from years of working with coaches inside The Coach Certificate & Mentorship Program so you can easily see where you fit!
When you complete the quiz, you'll get:
Your matching case study,
Specific strengths & challenges aligned to your result;
Suggested next steps for each stage;
Plus the Case Study Document includes:
Case studies leveled by coaching mastery;
A framework to identify essential stages of professional growth & key areas to focus on in your professional learning;
Alignment with the THRIVE Model for a Successful Coaching Culture;
Space for you to reflect & prioritize so you can take action immediately!
You'll go straight to the Quiz, and get the Case Study Document via email.
---
View Kate's Course Engagement Reflection
---
Level Up Your Coaching with The Coach!
If you are ready to develop your coaching practice over the next academic year, and explore topics like transitioning your work from individuals to teams, please join us for our next cohort of The Coach!
Wherever you are in building a coaching culture in your school, The Coach will give you the strategies, skills and tools you need to make coaching a success and will empower you to confidently apply instructional coaching strategies in any situation – from building a coaching program, to having coaching conversations, to being a leader in your school community. We facilitate only one cohort each academic year so we can offer individualized support for each participant.
Registration for our next global cohort opens once a year – check the website for details!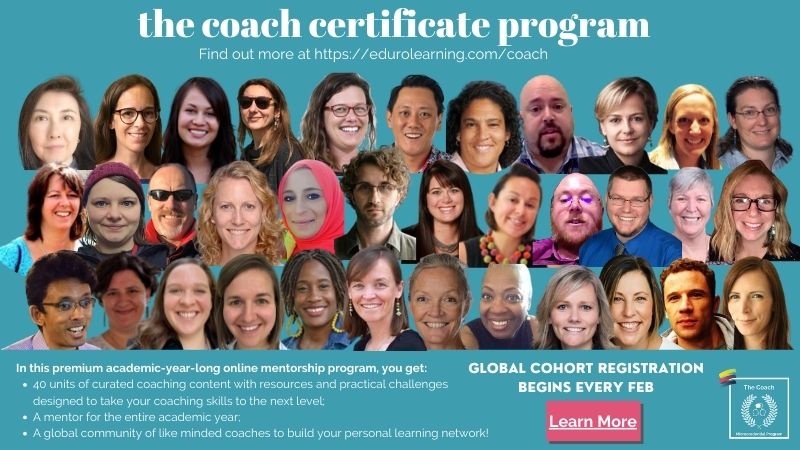 Find out more at: https://edurolearning.com/coach/